Inspire students on a visit to this Arts and Crafts heritage site dedicated to the work of Victorian artists GF and Mary Watts.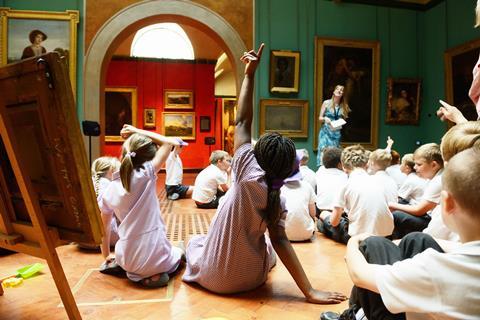 Itinerary: Sculpture Workshop
Provider: Watts Gallery Artists' Village, Compton, Surrey
Subjects: Art and History
KS: 2
Discover hundreds of paintings and sculptures, restored artist's studios and beautiful woodlands.
The learning programme supports the delivery of the National Curriculum and offers cross-curricular links. Students develop observational skills and visual literacy through interactive tours, work with original and replica objects from the handling collection, and learn through making in hands-on, artist-led workshops. The Sculpture Workshop is one of the most popular sessions and this is a typical itinerary for KS2.
10am: A member of the learning team meets the group and gives an introduction to the site.
10:10am: The group heads to the main gallery and pupils are taken on an interactive tour with props, questions and handling resources. Students will discover the life and intriguing character of GF Watts and the paintings he created, from celebrity portraits to pictures depicting Greek myths.
10:25am: Students take part in a fun picture hunt around Watts Gallery.
10:30am: Students learn about and sketch from monumental plaster models, maquettes (scale models) and casts in the sculpture gallery. They will discuss GF Watts' materials and investigate his most famous sculpture of a horse and rider, Physical Energy, which was inspired by the classical Greek relief sculpture, the Parthenon Frieze.
11:15am: The group takes a short walk through beautiful woodlands to GF and Mary Watts's Arts and Crafts home, where they will have a tour of the restored studios. Students will uncover sketches, recipe books and interactive touch panels that reveal how Mary Watts created the Grade I listed Watts Chapel. In the GF Watts studio, students can see a working artist's studio as it would have been 100 years ago, complete with pigment bottles, brushes, palettes and painting experiments.
12pm: Break for lunch.
12:45pm: Students take part in an engaging artist-led workshop in the Clore Learning Studio where they will create individual Modroc horse sculptures inspired by Physical Energy.
2pm: Departure
Contact information:
01483-810235
www.wattsgallery.org.uk