Last year, almost 900,000 school children were involved in the week-long initiative which takes place each November.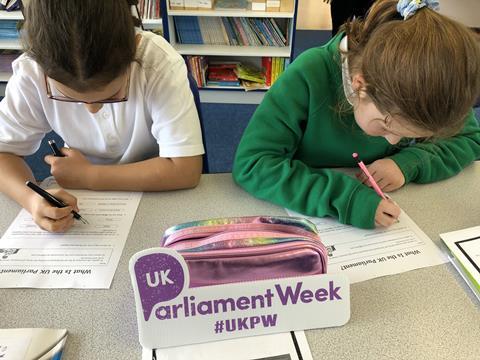 While the learning team at UK Parliament have acknowledged that taking part this year "might feel a little different", they've said they're looking forward to seeing all the creative ways schools will celebrate democracy and making a difference.
This year, the week will run from 1st - 7th November.
What is UK Parliament Week?
It's an annual festival that engages people from across the UK with their Parliament, exploring what it means to them and empowering them to get involved.
When schools sign up they'll receive a free kit with goodies including an activity booklet, bunting, a ballot box and stickers. There are various ways schools can engage their students including:
Debating issues and holding votes.
Themed assemblies and school council elections.
Creating petitions and campaigning for change.
Q&A sessions, quizzes and lively debates.
Making videos and posting online.
Free online resources for schools
UK Parliament has a range of teaching resources available for free on its website including digital copies of a 'Discover the UK Parliament' book for pupils aged 7-11 and various videos such as 'UK Parliament and the Second World War' for Secondary school students.
It is also running a number of free live online sessions for schools to take part in as part of its Learn Live series. All teachers need is a whiteboard and a reliable internet connection. Previous clips on topics including 'how laws are made', 'the work of Select Committees' and 'Votes for Women' are available to watch back on the website.
In addition there are opportunities for teachers to take part in free online training sessions so they can "better nurture students' understanding of UK Parliament's work".
To find out more about UK Parliament Week 2020 including how to sign up and the resources available for schools, visit the website.