Rock UK's Summit Centre has welcomed the first residential group to its redeveloped activity centre in the South Wales valleys.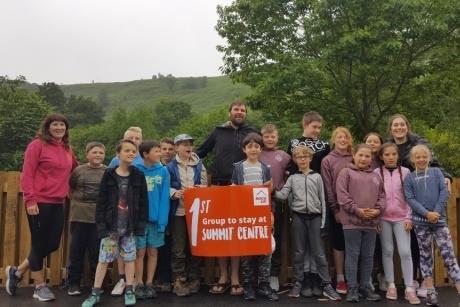 The centre, a former coal mine, has been turned into a destination which offers fully catered, en-suite accommodation with 104 beds, meeting rooms, an indoor climbing centre, café and an outdoor children's play area.
The adventure centre offers more than 20 instructed activities, and a gym and fitness centre will open later in the year too.
Summit Centre's rural location in the South Wales valleys means students can benefit from numerous off-site activities too, including: climbing on local crags, gorge walking through natural waterfalls, caving, canoeing, kayaking and eco warrior activities.
Bursary places are offered by Rock UK to those pupils who may not normally be able to visit due to financial constraints.
What the first school to visit thought…
The first group to enjoy the new facilities and stay onsite was Priory Church in Wales Primary School from Brecon, who brought its year six for a three-day adventure break.
Trip leader Miss Pugh commented: "The new centre's facilities are excellent. The food was fantastic with a great choice for even those fussy eaters.
"We loved seeing the kids pushing themselves out of their comfort zones and seeing them become more independent."
Centre director, Rachel Allen, said: "We are so happy to welcome our first residential guests after many years of planning and hard work. The new centre will help us in our vision to transform young lives."
Teachers can call the Summit Centre for more details on booking, on 01443 710090.
For more information, visit rockuk.org/summit.