Cadbury World is offering Key Stage 2 pupils the opportunity to bring the topic of creative language to life with a new on-site workshop.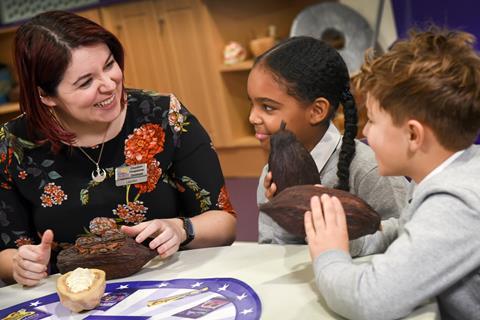 Linked to the current KS2 curriculum, the Bournville-based attraction's new Creative Language workshop offers pupils the chance to develop their knowledge by exploring different forms of persuasive writing.
During the one-hour workshop, pupils will be able to take a look at the chocolate-making process through exclusive video footage from inside the Cadbury factory, providing them with an insight into how the world-famous Cadbury brand produces chocolate treats in many different shapes and sizes.
As well as having the opportunity to work in a group to create a pitch for their very own chocolate bar, pupils will put verbs and nouns related to the world of chocolate to the test by writing a persuasive letter to 'Mr. Cadbury' to convince him to create their chocolate bar.
Lauren Francis, education programme development coordinator at Cadbury World, said: "We're delighted to launch our new KS2 Creative Language workshop for pupils to enjoy during their school trip.
"The interactive workshop is a curriculum-linked educational session and is a fantastic way to complement a school visit to Cadbury World. We look forward to welcoming school groups to our all-new workshop, as well as to Cadbury World for a day full of chocolatey discovery."
What else can pupils get out of the visit?
Before or after the workshop, school groups can also make use of all that Cadbury World has to offer, with even more history about the brand to be learned about through a self-guided tour of the attraction's chocolatey zones.
Pupils can travel back 1,000 years to the Aztec Jungle to uncover the origins of the cocoa bean and take a trip down Advertising Avenue to relive some of Cadbury's old advertising campaigns.
Pupils can also watch the attraction's chocolatiers demonstrate traditional chocolate making skills in the Chocolate Making Zone, before heading to the 4D Chocolate Adventure Zone to virtually ride the Crunchie Rollercoaster and dive into a pot of liquid Cadbury Dairy Milk.
With more than 30 years' experience and more than 2,000 school groups attending each year, Cadbury World offers unique educational experiences that provide a fascinating insight into the nation's favourite chocolate brand.
For more information on the Creative Language workshop and to book a school visit to Cadbury World, click here.