'The Bioasis' is described as a new post-apocalyptic adventure, set in 2074 in a secret location in the south west of England, giving schools across the country the chance to escape the classroom.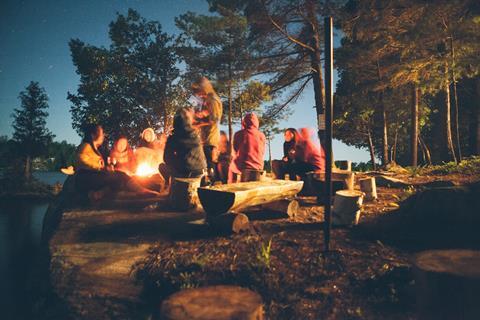 Tucked away in a remote 1200-acre private estate in an Area of Outstanding Natural Beauty, The Bioasis project invites students to consider the climate crisis head on as they learn about rewilding and conservation, while supposedly gaining the tools and motivation to lead an adventurous, yet sustainable life.
Missions to The Bioasis are framed in a post-apocalyptic world with a line-up of activities weaved into the narrative, including field archery, canoeing, paddle-boarding as well as search and rescue missions and team building challenges.
Students will also contribute positively to the environment by taking part in a series of conservation activities and learn about biodiversity monitoring.
The story so far…
The climate change apocalypse of the 2030s and 40s means the world we call home is dying. But there is hope - for years, rumours of a remote, natural paradise, somehow spared from the disaster, have been circulating.
An expedition team, sent to investigate this safe haven has not been heard of since. Until, that is, a fragmented radio message is received, along with a desperate plea to recruit a new generation to reconnect with nature and start the process of rewilding our dying planet.
Education is the key, but the mission will not be easy. There will be danger, adventure, wild animals, challenges to overcome and industrialist saboteurs to avoid. But young people have always been innovative. They alone hold the key to rebooting our planet and providing hope for the human race.
Adrian Ferraro of Bioasis Mission Control said: "The Bioasis came about from a desire to move towards a more sustainable school trip, while providing an exciting and dynamic learning outside the classroom experience.
"It has been exciting to see the project develop from the initial concept through to launch and we have no doubt that The Bioasis will prove an inspiring adventure for students, building resilience and an affinity for the natural world.
"Missions are set in a post-climate-change apocalyptic future, where students will be immersed in a world which has the climate crisis as its very core. This will get students thinking about sustainability and conservation and how they can incorporate these issues into their everyday lives.
"Students will be taken out of their comfort zone on missions that are challenging but extremely rewarding. We aim to reconnect young people with nature, detox them from everyday life and help them build life-skills and a love of adventure."
Schools are able to choose from two missions: a classic six-day adventure, or the 10-day 'Bioasis Extreme' challenge, which involves a multi-day wilderness trek into The Bioasis from an undisclosed location.
Open to students from Year 8 to 13, trips to The Bioasis are low in carbon emissions with minimal impact to the natural environment. Food is sourced from local farms keeping food miles to a minimum.
For more information about the residential experience and how to book, visit www.thebioasis.com