The popular children's story, The Gruffalo, by Julia Donaldson, is currently touring the UK before it opens in London this summer.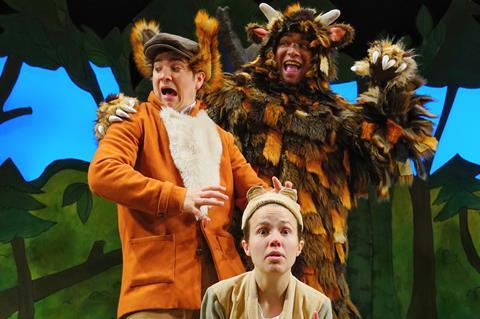 Just in time for an end of summer term treat, The Gruffalo is making its way to the Lyric Theatre in Shaftesbury Avenue this July. The show will open at the West End theatre on 3rd July where it will run until 8th September.
The production is celebrating the 20th birthday of the much-loved picture book written by children's author Julia Donaldson and illustrated by Axel Scheffler.
What is The Gruffalo about?
The show will have young audiences joining Mouse on a daring adventure through the deep, dark wood. Searching for hazelnuts, Mouse meets the cunning Fox, the eccentric old Owl and the high-spirited Snake. Will the story of the terrifying Gruffalo save Mouse from ending up as dinner for these hungry woodland creatures? After all, there is no such thing as a Gruffalo – is there?
You can expect songs, laughs and monstrous fun for early years and Primary School children in. The show ties in well with Literacy and Drama.
The cast includes Jake Addley as 'Predators'; Rebecca Newman as 'Mouse'; and Elliot Rodriguez as 'the Gruffalo'.
The story was published by Macmillan Children's Book in 1999, and was adapted for the stage by Tall Stories in 2001; it has since been delighting audiences around the world.
Founded by artistic directors Olivia Jacobs and Toby Mitchell, Tall Stories' other productions include Wilde Creatures, The Canterville Ghost, The Gruffalo's Child, Emily Brown and The Thing, The Snail and The Whale, The Snow Dragon and Room on the Broom.
Educational benefits
Accompanying education packs are available to download on the website for The Gruffalo as well as Tall Stories' other productions. The pack for The Gruffalo contains activites for young children in Key Stage 1 and 2, which will teach them about telling tales and thinking in pictures.
Workshops are also available which tend to take place within schools, but can be used to support seeing a show.
Teachers can call 02083 480080 for more details.
For more information, visit www.tallstories.org.uk.