Winchester Science Centre and Planetarium has launched a new interactive biology workshop about the heart and how to keep it healthy.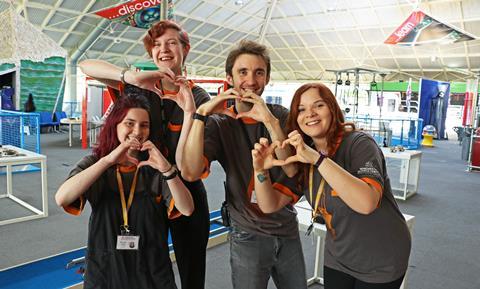 Schools visiting the Science Centre, just outside Winchester in Hampshire, now have the option to choose a biology-based workshop.
Heart Heroes is a new 45-minute workshop suitable for Key Stage 1 & 2 children. The learning is geared toward understanding the essentials about the heart and how to keep it healthy. The session includes interactive augmented reality T-shirts, fun biological models of the heart and an optional animal heart dissection.
Ben Ward, CEO of Winchester Science Centre said: "Heart Heroes is the ultimate biology lesson borne out of our exciting collaboration with LifeLab at the University of Southampton.
"The human heart is amazing. This workshop educates and empowers children to better understand how starting heart-healthy habits now can reduce their chance of cardiovascular disease and other health conditions."
Heart Heroes is delivered at the Science Centre as part of the all-inclusive Ultimate STEM School Trip, which also includes a live planetarium show, an interactive space challenge and time to explore the hands-on exhibits. State-funded schools get a 15% discount and there is a 60% discount for Winchester Science Centre priority schools and any school with 14% or more students receiving free school meals.
Professor Mark Hanson, British Heart Foundation Professor of Cardiovascular Science at the University of Southampton added: "Helping young people understand how the heart works can help enormously in motivating them to keep it healthy. Winchester Science Centre's Heart Heroes initiative will make a great contribution to doing that."
The science centre welcomes more than 40,000 students on school trips each year, from KS1 through to KS4.
Also new for the next school year is Explorer:Space – Mission:Rescue, a full-day science and engineering experience delivered inside schools by the science centre's experienced science communicators. It's designed to be a highly stimulating and immersive experience that puts children at the centre of a space mission to rescue Sophie, an astronaut trapped in space while exploring an exoplanet.
About Winchester Science Centre and Planetarium
It's the leading science and discovery centre in the South of England with a mission to spark curiosity and build science capital for all.
The independent educational charity was founded in 1985 in response to the local shortage of scientists, engineers and technicians. The centre is also home to the UK's largest standalone planetarium, two floors of hands-on STEM activities and runs an active events programme for all ages.