Set over three fully accessible floors, this fascinating museum explores the story of the Pilgrim Fathers and their journey aboard the Mayflower to America in 1620.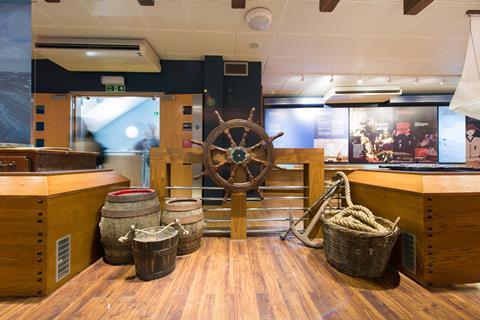 Itinerary: Mayflower 400
Provider: The Mayflower Museum, Plymouth
Subjects: History and Geography
KS: 2
The Mayflower 400 programme is national project set up to raise awareness of the forthcoming 400th anniversary of the voyage in 2020.
The recommended group size is 20, but larger parties can be accommodated with half the students spending time in the museum while the others are in the onsite classroom. Teachers can opt for a self-guided tour and use the classroom to lead additional sessions.
10:15am: Arrive at the coach drop-off directly opposite the museum, with metered coach parking available nearby.
10:30am: The journey of discovery begins on the third floor where groups step out onto the balcony to enjoy a panoramic view of the historic Barbican. Interpretation boards indicate buildings and points of interest.
10:40am: The second floor houses the Mayflower Pilgrims Remembered gallery where interactive games and displays tell the story of the pilgrims' epic journey and their influence on Plymouth. Children will enjoy the opportunity to dress up as a pilgrim and follow the story through the eyes of two younger members of the Pilgrim group, Constance and Giles Hopkins.
11:15am: Marvel at the detailed model of the Mayflower ship, built on a 1:11 scale. Compare it with modern boats moored in Sutton Harbour and invite pupils to spot the differences between them.
11:30am: In the classroom reflect on the morning's learning, complete exercises and discuss what life was like for the pilgrims.
12pm: Take the short walk to Plymouth Hoe for a picnic with views over Plymouth Sound. It's the home of Smeaton's Tower, a former lighthouse, and was the spot where Sir Francis Drake allegedly played bowls as the Spanish Armada approached.
1pm: Visit the Barbican on the Mayflower Explorer Trail where pupils look for historical buildings, visit the country's oldest bakery and see the Mayflower Steps, imagining how the pilgrims felt as they set sail.
1.30pm: Departure, or if time allows, extend the day with a boat trip to learn about the harbour and the boats in the Royal Naval Dockyard.
Contact information:
01752-306330
www.plymouth.gov.uk/visitorsandtourism/attractions/mayflowermuseum