Former popstar Michelle Heaton has highlighted the importance of learning outside the classoom (LOtC) on a recent charity visit to a children's Science class in Harpenden.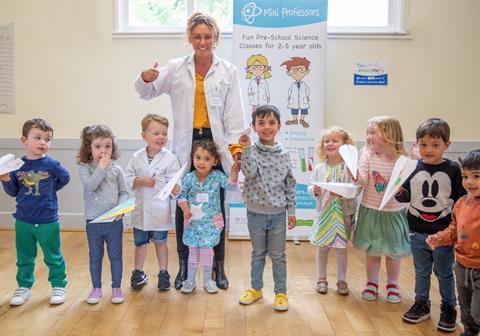 The special session was run by nationwide early years Science class provider Mini Professors, in celebration of Children's Activities Week and in collaboration with autism charity Caudwell Children.
The singer, who got into character as 'Professor Michelle' for the session, told STO magazine: "Anything that gets kids socialising and interacting outside of the school gates is fantastic.
"Whether it is children's activity sessions like Mini Professors or going on school trips, or days out exploring new places and environments, it's all great for building confidence in new and engaging ways."
More about the Mini Professors session
During the workshop, Michelle explored the dynamics of flight with the children, singing, playing games and taking part in different experiments such as flying paper planes and making and launching straw rockets.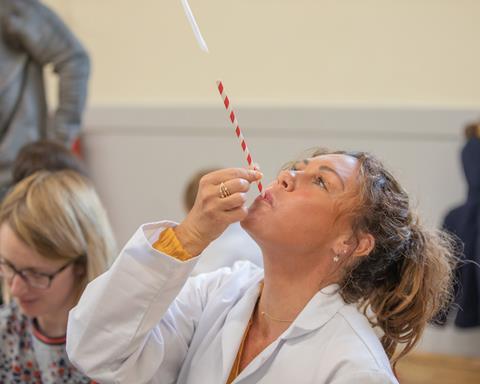 Mini Professors Science sessions are designed to 'inspire a passionate love of learning from a young age' and to highlight that Science itself also supports the development of fine and gross motor skills, socialisation, sharing, taking turns, confidence building and asking questions.
Scientist Tash Spink PhD, class leader for Mini Professors in Harpenden and St Albans (who ran the session with Michelle), said: "We are very proud to be a regular supporter of Children's Activities Week and to be working with Caudwell Children this year to help raise funds for children and families affected by autism.
"It was great having an inspirational parent like Michelle along to our class, she really got involved with the whole group and the children really enjoyed meeting her too."
Michelle added: "It was amazing being Professor Michelle, the children and parents have been wonderful and welcoming.
"Children's Activities Week has given us a great platform to show how important these kinds of activities and experiences are for children everywhere, so today was important on so many levels."
Michelle Heaton is an ambassador for Caudwell Children. More information about the charity can be found at www.caudwellchildren.com