ZSL Whipsnade Zoo's new Interactive Adaptation Trail aims to provide teachers with a route around the site to visit as many enclosures as possible, with special activities along the way.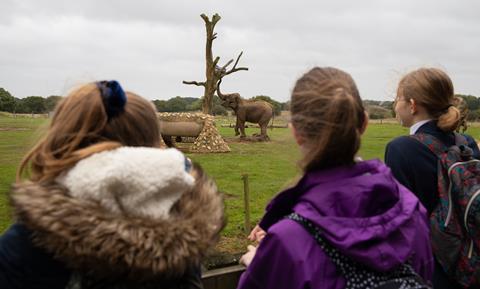 Taking place on selected dates throughout the year until 12th October, Key Stage 1 & 2 school groups will meet one of the zoo's learning officers at three animal enclosures on the self-led tour for a short interactive activity.
Each of these activities, taking place at the Asian elephant, African hunting dog and penguin enclosures, last about 10 minutes and are run exclusively for the class when arriving at the enclosure.
Pupils take part in an elephant-themed relay race to learn how the animal's trunk and tusks help them to survive in the wild, while at the penguin enclosure, children can find out why their black and white feathers are coloured this way and why they're so important.
The third activity at the African hunting dogs enclosure sees students work in small groups to discover how the carnivores hunt and live, by trying on their own hunting dog ears and studying paw prints and skulls.
The trail is designed to allow schools to make their way around the zoo at their own pace, with each activity being a drop-in session so rather than a set arrival time, there's a time frame when the activities will be running.
Intended learning outcomes
By the end of the visit, the zoo, located near Dunstable, aims to have taught KS 1 pupils what a habitat is, given them an understanding of why animals live in different environments and help them name different features which make an animal suited to its habitat.
KS 2 children will be able to explain what an adaptation is, give examples of animal adaptations and differentiate between different types, whether it be behavioural or physical adaptation.
Both visits link to the Science National Curriculum and additional dates can be pre-arranged if schools are unable to attend the set days.