Two charities have been awarded a grant of £1.7 million from the Government's Green Recovery Challenge Fund to create more wildlife habitats in the West Midlands and engage more children in the region with nature.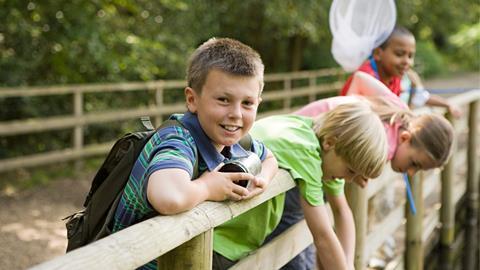 The Council for Learning Outside the Classroom (CLOtC) and Canal & River Trust's Waterways, Wildlife and Wellbeing project aims to create a host of new habitats along canals in Walsall, Wolverhampton and Worcestershire and increase environmental learning and connection with nature for more than 140,000 pupils in the region.
It is anticipated that the project will help hundreds of teachers feel more confident about taking learning beyond the classroom walls – within the school grounds, local area and further afield.
The funding will be used to develop a Green Recovery network centred on the West Midlands canals. Central to this will be engaging children with these waterway wildlife corridors. A total of 500 schools from across the region will be supported to develop their curriculum to incorporate more learning beyond the classroom to boost environmental understanding.
Dr Anne Hunt, chief executive of the CLOtC, said: "We are delighted to be partnering with Canal & River Trust on the Waterways, Wildlife and Wellbeing project. It will help more children in our towns and cities benefit from regular contact and connection with the nature on their doorstep.
"We know that supporting schools in the West Midlands to take their learning beyond their classrooms will help more pupils to enjoy and engage with their learning, and to build better connections with the local natural environments in their communities."
"Learning outside the classroom and connection with nature improve health and wellbeing too, which is so important as we continue to recover from the impact of the Covid pandemic."

Dr Anne Hunt, chief executive of the Council for Learning Outside the Classroom.
As well as aiming to inspire the next generation, the project will deliver a host of environmental enhancements connecting fragmented habitats for endangered species, such as water voles.
In total, 50kms of canals will be improved, linking seven nature reserves, seven Sites of Special Scientific Interest will be enhanced, a 20km community orchard will be planted between Birmingham and Wolverhampton and canals around the Commonwealth Games sites will be improved.
Work will be carried out on over 600 sites from North Northumberland to the tip of Cornwall and, combined with the first round, almost one million trees will be planted, contributing toward the Government's commitment to treble tree planting rates across England by the end of this Parliament.
The project will get underway in the autumn term and conclude in the spring term 2023.