The North Yorkshire Moors Railway (NYMR) is providing free taster visits for teachers for the first time to help them pre-plan their educational visits to the heritage railway.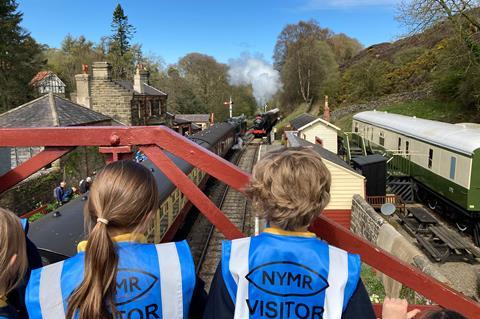 To help teachers map out where their students will be on the visit, teachers can apply for a free family day ticket here to experience the heritage railway and its educational offer.
The NYMR is also offering a new programme of activities across the railway for schools, with Macey Palmer, learning and interpretation officer at NYMR, saying that "education is at the forefront of the NYMR's aims and aspirations."
She said: "This is why we are redefining our education offer for 2023, placing learning, interpretation and community engagement at the heart of everything we do.
"We will provide learning opportunities that are not only immersive and interactive but that are more ambitious and dynamic, developed in collaboration with schools and other groups, to ensure our offer is both relevant and accessible."
Sessions suitable for Key Stage 1-2
There are a number of learning activities including workshops and station trails suitable for KS2 groups including 'Running on Time', 'The Signaller's Challenge', and 'King Coal' which have links to the National Curriculum and are cross-curricular, including subjects such as history, maths and geography.
The 'Just the Ticket' school trail is available for KS2 and upper KS1. In small groups, pupils can explore the station and solve puzzles in this cross-curricular trail to discover an anagram and have their ticket stamped. This station activity at Goathland Station is a good option for groups who need flexibility for their visit.
The heritage attraction also has another learning offer which includes station trails at Pickering Station. This trail focuses on exploration, finding clues and solving puzzles, and is enhances learning about the Victorian period and STEM subjects. All NYMR learning activities can be paired with a journey on the train.
Travel costs for educational groups throughout its 2023 season are £15 per adult and all pupils (1:10 child ratio) up to the age of 16 travel free.
This charge is per booking regardless of the length of journey and the 2023 season ends on 5th November.
For more information about school visits to NYMR, click here.