Another 350,000 tickets have gone on sale for the runaway hit kids' show School of Rock The Musical.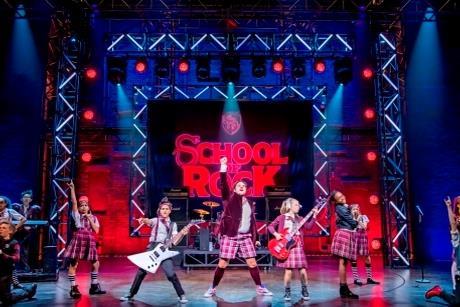 This year's intake of rebel rookie musicians takes to the stage for the first time on 22nd August at the newly-renamed Gillian Lynne Theatre in Drury Lane, London.
And there are special group discounts and benefits for teachers who want to take their own playground proteges to Sir Andrew Lloyd Webber's Olivier Award-winning production.
School groups of 10 or more can secure a £50 discount on the £75 face value of tickets and one teacher goes free for every 10 pupils aged 16 or under.
About the musical
School of Rock The Musical follows the exploits of Dewey Finn, a layabout, failed, wannabe rock star who sponges off his best friend Ned Schneebly and his long-suffering girlfriend Patty Di Marco.
But when fate intervenes and he gets a chance to impersonate Ned as a supply teacher at a prestigious prep school, Dewey's takes a whole new direction.
He gradually converts his class of uptight straight-A students into guitar shredding rock fiends and leads them to glory in a Battle of the Bands competition.
Based on the smash hit 2003 movie starring Jack Black, the show stars a rotating cast of three teams of 12 kids who play live at every performance.
This year's musical features many original new songs written by Sir Andrew and lyricist Glenn Slater.
Educational links
A downloadable education pack is available and includes pre and post visit activities, looking at the roles in the show as well as within theatre, the music and themes, and how the musical version differs to the screen version.

Schools can also apply for a licence to put on their own production of School of Rock The Musical.

For more information visit uk.schoolofrockthemusical.com
Main image: Craig Gallivan (Dewey Finn) and the Kids of School of Rock. Photo credit Tristram Kenton.