Former Manchester United footballer Gary Neville and Michelin-starred chef Tom Kerridge joined forces with The Outward Bound Trust to encourage young people to get outdoors and enjoy a healthy lifestyle.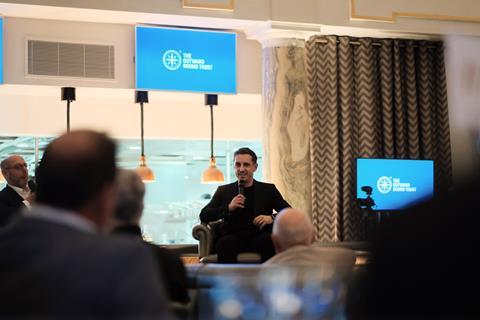 The pair hosted supporters of The Outward Bound Trust, an educational charity that helps young people learn through outdoor adventures, at a special event at Manchester's Stock Exchange Hotel on Monday 17th October.
Together, they were interviewed by BBC Broadcaster Nick Robinson, sparking conversations around the importance of the outdoors and healthy living as a way of setting young people up for success.
Gary Neville said: "Things like Outward Bound, getting outdoors and enjoying physical activity are crucial for children. Whether it's learning about discipline, determination, winning or losing. Having those experiences can be life shaping and set you up for future success.
"It's critical that we put outdoor learning into children for mental health, physical health and wellbeing."
Some of the course outcomes which The Outward Bound Trust aims to achieve with all pupils as part of their experience include:
Boosting confidence
Boosting emotional wellbeing
Improving relationships
Building resilience
Understanding of the natural environment
The Outward Bound Trust's mission is to inspire young people so they can achieve more than they ever thought possible by funding disadvantaged and under-represented communities from across the UK to experience Britain's wildest places.
The charity works with both primary and secondary schools to produce tailored outdoor learning courses which aim to deliver an alternative education, giving young people the confidence to tackle the real world head on.
Some of the benefits for schools booking an experience with The Outward Bound Trust include free teacher taster courses and funding for eligible schools.
Gary and Tom's conversations supported The Outward Bound Trust's campaign for more green time and less screen time for young people. Tom Kerridge highlighted his own campaign alongside like-minded celebrity chefs against child food poverty, as their fight to extend the provision of free school meals across the UK.
As part of the evening, guests also enjoyed a three-course dining experience at Tom's Bull & Bear restaurant, raising approximately £150,000 to support young people attending Outward Bound courses.