The HRH The Duchess of Cambridge has championed outdoor learning in a session with The Garden Classroom (TGC) charity involving local schoolchildren.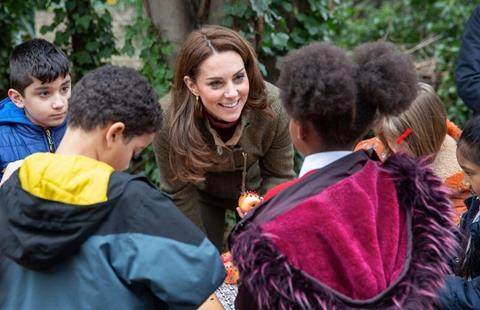 Her Royal Highness visited King Henry's Walk Garden in Islington, London, where she spoke to garden volunteers and members of The Garden Classroom team and took part in a nature session with the children from nearby St Jude and St Paul's Primary School on Tuesday, 15th January.
The visit highlighted the Duchess' passion for nature and the outdoors and was organised by the Royal Horticultural Society who announced that she'll be co-designing an RHS 'Back to Nature Garden' at the Chelsea Flower Show this year.
The Duchess asked the children "do you prefer to learn inside the classroom or outside in a woodland such as this?" and the children replied enthusiastically "in a woodland!"
Later whilst making pizzas the Duchess brought up the subject of outdoor learning again with the children and asked whether there was a preference for learning outside the classroom or learning inside and said: "I think that's where George and Charlotte would love to be, learning outside…. It's better outside."
TGC founder and director of strategy, Marnie Rose, said: "It's wonderful to have welcomed HRH The Duchess of Cambridge and to experience her support and enthusiasm for the importance of nature activities in urban green spaces.
"Learning outside the classroom is becoming increasingly important to families, particularly those who live in cities with little or no access to green space. The children have had a wonderful and memorable time with the Duchess during their Garden Classroom activities today."
Educational offering at King Henry's Walk Garden
A full programme of nature education sessions is delivered by The Garden Classroom at King Henry's Walk Garden to Primary school children, with around 1,500-2,000 children and young people benefiting at this one site each year.
The Garden Classroom now operates across the borough of Islington in many greenspace sites and last year its nature connection activities benefited over 8000 children and young people across the borough. Since 2008 62,000 people have participated in TGC's activities.
For more information, visit www.thegardenclassroom.org.uk.
Main image: Credit RHS.