Conveniently situated at King's Cross, the only London museum of inland waterways is also an industrial museum that looks at the intriguing history of London's ice trade.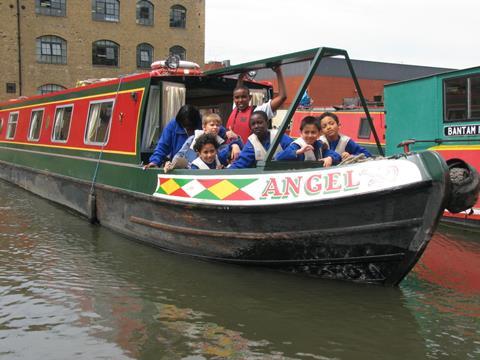 Itinerary: Bridges, Tunnels and Canal Art
Provider: London Canal Museum
Subjects: Cross-curricular
KS: 2
The education programme facilitates a broad range of cross-curricular studies encompassing History, Geography, Science, Technology, Maths, Art and Literacy. Accommodating groups of up to 60, the education team recommends a three-way carousel of activities.
10am: Arrival and welcome with an overview of the day's activities and health and safety briefing. Pupils are divided into groups to take part in three rotating activities.
10:20am: Boat trip through the Islington Tunnel. The Regent's Canal opened in 1820 and is under a mile in length. A museum guide provides a commentary on the history of the tunnel and pupils learn how boats were once propelled by "legging", where men lay on the boat and pushed against the walls with their legs.
11:10am: Roses and Castles is the name of the colourful artwork first used to decorate boats in the 19th century. Narrowboat families also painted jugs, bowls and other everyday household items, and the museum has a collection of different objects. In this engaging session pupils learn the basics of painting canal-style roses and the history of the folk art.
12pm: Packed lunch on the wharf or inside the gallery.
12:40pm: In the Bridges and Tunnels workshop pupils assume the role of canal engineers and explore the geography of the local area with reference to how the growth of the canals and the structures along them helped shape the landscape they see today. Children work in groups to dig a tunnel through a sand castle to discover the importance of strength in a structure and look at beams and arches, using our interactive exhibit to discover the importance of the arch. Finally, they work in pairs to build their own mini arches to take back to school for further studies into different types of bridges.
1:30pm: Depart or spend more time exploring the museum.
Contact information:
020-7713 0836
www.canalmuseum.org.uk