The nationwide challenge, which runs during Children's Art Week from 6th to 12th July, aims to inspire school children across the UK to explore the wonder of nature.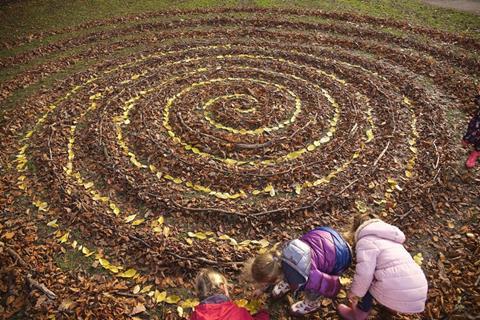 Launched by the Council for Learning Outside the Classroom and The Children's Challenge, the #BigOutdoorArtChallenge will encourage teachers and their pupils to get creative outside.
Teachers and parents can upload photographs of the artworks to Instagram using the hashtag #BigOutdoorArtChallenge to be in with a chance of winning a prize for their school.
Dr Anne Hunt, chief executive of the Council for Learning Outside the Classroom, said: "Covid-19 has changed how we connect with each other and the world around us. We have launched the Big Outdoor Art Challenge for teachers and pupils as a simple way to celebrate getting outside and taking a few moments to reconnect with nature, with each other and perhaps with ourselves too.
"The evidence is clear that learning outside the classroom has a very positive impact on children's lives and engages them with learning; it helps schools deliver their curriculum even more effectively; and it contributes to teacher and pupil wellbeing, all things that are critical at the moment."
Schools can register to take part in the challenge on The Children's Challenge website.
Photographs of the artworks should be posted on Instagram with the hashtag #BigOutdoorArtChallenge along with the school's name, town/city and year group of the child(ren) who created the artwork.
Stephen Lamacraft, director of The Children's Challenge, said: "This is a fantastic, easy-to-do challenge that will unite children at school and those learning at home in a simple, fun activity. It's free to take part in the challenge and you don't have to be a brilliant artist. It's all about getting out into the fresh air and exploring your environment to see what you can find to use in your pictures and have a go at winning a prize for your school."
Land artist, James Brunt is supporting the challenge: "In strange times, one of the most important things for me is to not lose the ability to play and create. The outdoors provides us all with a wealth of wonder to explore and experience, it is the largest artist studio in the world, and it's free. Never forget to stop, look, experience and play."