Anglia Tours is offering a range of options to help support classroom-based teaching, taking pupils to range of historically significant places across the UK.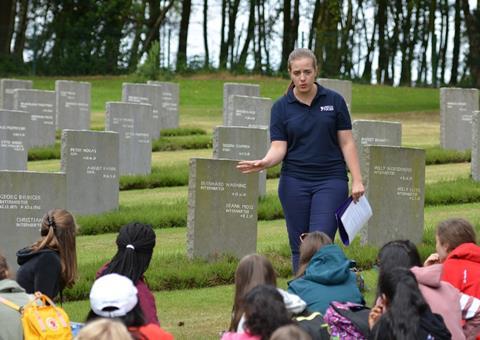 The team has said that now is still a good time to boost students' knowledge and passion with the help of its guided history tours throughout the UK.
Whether it be trips to historically significant places, walking tours or living history workshops within schools, every session is designed to enhance subject learning and boost pupils' confidence.
UK day trips
Anglia Tours' UK day trips, which can be tailored for different ages, have been designed with the aim of enabling students to develop a deeper understanding of the events, experience and legacy of World War One:
The Christmas Truce: through unique re-enactments, pupils will meet with a Recruiting Sergeant to be put through their paces with a Drill Sergeant and learn about how wounds and injuries were treated from a Medical Officer.
World War One day tour to the Midlands: the tour begins at the Great War Hut, Cannock Chase to learn about recruitment and training of the British Army, before moving on for a guided tour of the nearby Commonwealth and German Military cemeteries.Then it is on the to the Staffordshire Regiment Museum, where pupils can see a large, reconstructed trench system, period equipment and weaponry close up and experience a World War One training camp. The tour will end with a visit to the National Memorial Arboretum.
World War One day tour to East Anglia: delivered in conjunction with Khaki Devil and the Great War Huts, students will: visit restored, original World War One buildings; see a large reconstructed trench system; and take part in a fully-guided tour of a local cemetery which contains a number of Commonwealth War Graves Commission burials.
London-based walking tours
Led by an Anglia guide, each London walking tour visits a range of carefully selected sites throughout the city. By making use of different historical sources such as official documents, drawings, and photographs, the tours aim to help students visualise the environment in a way which a text book cannot:
Whitechapel: Crime, Policing & The Inner City: focussing on the case study of Jack the Ripper, this fully-guided walking tour will cover key themes such as housing, unemployment, poverty, immigration and crime. There is also a detailed examination of investigative policing in Whitechapel at the turn of the 20th century.
London & The Second World War: with visits to locations such as St Paul's Cathedral, Smithfield Market and the ruins of St Dunstan's in the east, and covering themes including the Blitz, weapons and London's response to the war, this tour will look at how the city and its people dealt with an unprecedented threat.
If schools are unable to get outside of the school grounds at this time, Anglia Tours can also bring history to you, through a series of presentations, each delivered in character by historical interpreters. These days can be tailored to meet specific requirements.
You can find more information about all of Anglia Tours' educational offerings at angliatours.co.uk
KS2 (Year 6) KS3 & KS4