Scarborough's new Alpamare Waterpark has announced that it will offer a schools programme when it opens in mid-July.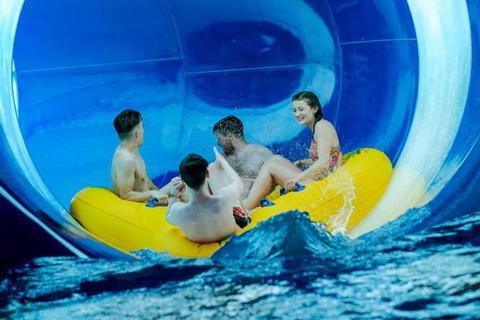 The park will offer school trip packages with group discounts, free teacher places, and special rates for off-season visits.
Plus 'edutainment' sessions will be available, which will give children the opportunity to learn about topics like water and energy conservation and water treatment at the park.
In addition, pupils will be able to experience the park's rides, which include a huge wave pool and four state of the art water rides.
"Alpamare will bring a new kind of water experience to the UK," explained Anton Hoefter from Alpamare. "It will offer day of fun, relaxation and togetherness, and all this in an exceptionally warm, clean, friendly and safe environment.
"With special rides that are not yet available elsewhere in the UK, a huge wavepool and kids water playground, thrill and fun are guaranteed. Our all-year heated outdoor pools, overlooking the north sea, are the best place to relax and enjoy a quiet moment."
About Alpamare
Alpamare waterparks are located around the world. The brand's heritage can be traced back to the 1970s.
The Alpamare in Switzerland is one of the largest indoor waterparks in Europe.
The brand has received numerous international awards for innovation, safety and hygiene. All its waterparks are EN-ISO certified to ensure the highest standards in safety, cleanliness and enviromental sustainability.
For more information visit www.alpamare.co.uk.