Emily Carlill from the Council for Learning Outside the Classroom explains how teachers can use their local area and the winter season to create effective and memorable experiences.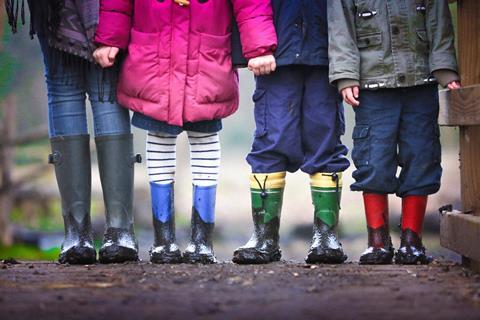 As we continue our journey into the darker half of the year, it certainly feels like there are some challenging and stormy times ahead. But before we start to batten down the hatches, let's look for the opportunities - those sparks of light – that can offer new experiences for learning, growth and resilience.
The benefits of taking students beyond the classroom walls are abundant, well-evidenced and often priceless. With some creative thinking, communication, and planning ahead, educational visits and experiences can be affordable for schools and all students without sacrificing safety, quality and learning outcomes. Here are a few suggestions of how to get the best out of your learning outside the classroom (LOtC).
Winter - a time of ideas, possibilities, and the emergence of new beginnings
You may think of winter as a time for hibernation, but residential experiences at this early part of the academic year, can have great impact for students, igniting their motivation, confidence and self-belief that will continue for the rest of the school year. Research from the Learning Away Winter Residential campaign showed that:
• 87% of secondary students felt more confidence to try new things after a residential.
• 72% of primary pupils said that their behaviour at school is better after a residential.
• 71% of secondary pupils felt more strongly motivated to learn.
A winter residential can, not only be more affordable and offer different experiences, but also have long-term impacts on students' wellbeing, progress, attainment and relationships with teachers and peers, giving a greater return on investment.
Small things can make a big difference
With ever-tightening budgets and pressures on schools, LOtC doesn't have to be extravagant to have impact. Using your school grounds, local area or inviting visitors into school are low risk, free or low cost, and easily adaptable to time available, students' ability, subject and learning objectives.
We have previously talked about the range of experiences available on your doorstep: from visiting a shop, museum or park to inviting parents, local businesses, councillors or members of the emergency services into school to inform students about their profession, trade, or offer advice and guidance.
Wood Street Infant School did exactly that and said: "We are lucky enough to have a church within the village which we visit regularly as well as a village steeped in history. We utilise this and explore local history within the village. We also use these visits as a way of exploring geographical change, asking questions, creating maps, document our findings, and build relationships within our community."
Through the CLOtC's Learning Beyond programmes for schools – LOtC Mark and Mentoring - we offer training and resources on using your school grounds and learning in your local area.
Enjoying the journey
Travel can often be a prohibiting factor when planning to take students further afield. Not all schools are lucky enough to own their own minibus and coach hire can be expensive, so a great option is to use public transport. What may seem like routine or mundane can be a new and exciting adventure for students – something that brings confidence and invaluable life experience.
Travelling by public transport is also a fantastic learning opportunity – engaging the students in the planning and risk assessment of the journey introduces them to timetables, urban and highway design, maps and sustainability.
The experience can develop skills such as money and time management, understanding how and where to buy tickets, how to use public transport safely, and appropriate behaviour and respect for operators and other passengers. During the day, trains and buses tend to be less crowded and offer cheaper rates so can be a perfect time to travel and offer students a mini adventure – and we all know that adventures are the best way to learn!
Rachel Linkletter, deputy headteacher of Salusbury Primary School in London, thinks the use of public transport can help pupils develop their navigational skills.
She said: "Our school is fortunate to be within walking distance of a TfL underground station. We regularly take children on educational visits into and around London making full use of the public transport available. As a school we benefit hugely from travelling outside of peak times, and children are given the chance develop their skills to navigate around their city. They learn to use signage to understand what lines and platforms we need to use, use timetables, and sometimes even become involved in route planning. We also talk about the safety considerations of using and travelling on public transport.
"For some children, this is the most exciting part of their LOtC experience before we have even got to our destination! It's not only an exciting adventure for the children, but also a fantastic and invaluable learning opportunity, giving them the confidence, knowledge, awareness, and skills for when they use public transport outside of school."
The CLOtC team are continuing to increase support for schools and education providers through the development of a new website and membership portal; reviewing and improving the LOtC Quality Badge Scheme; improving and increasing our communications; and planning for an engaging and informative National Conference on Thursday 2nd March 2023 at West Midland Safari Park.
Find out more about the CLOtC National Conference 2023 – and book your tickets at www.lotc.org.uk/clotc-national-conference.

Emily Carlill is project and event coordinator at The Council for Learning Outside the Classroom, the national charity that supports schools to embed learning beyond the classroom within a school.
View full Profile