Hunting a woolly mammoth, foraging for food and building a shelter were part of an engaging day out that transported a group of pupils back to the Stone Age.
School: Flamstead Village School, near St Albans, Hertfordshire
Subject: History
KS: 2
Number of pupils: 27
With students later describing as their best ever trip, the day was also a huge success for Year 3 and 4 class teacher Emily De Rouffignac from Flamstead Village School, who took the group of seven to nine-year-olds to Celtic Harmony at the end of their study topic on the prehistoric period.
"We wanted to consolidate what they'd learned and there is only so much you can do in the classroom," she said. "I'd previously taken pupils there on a Celtic Warrior Day and when I saw Celtic Harmony had added more options I immediately signed up for the Stone Age Day as it was so relevant to our topic."
Celtic Harmony is an award-winning charity that provides hands-on cultural heritage education of ancient Britain to increase understanding of the natural world and ancient crafts from archery to storytelling. Students experience first-hand how their ancestors lived and made food, clothes and shelter from the natural environment. In addition to a range of themed day trips, Celtic Harmony recently introduced a new one-night prehistory residential trip where pupils sleep in one of the authentically recreated roundhouses.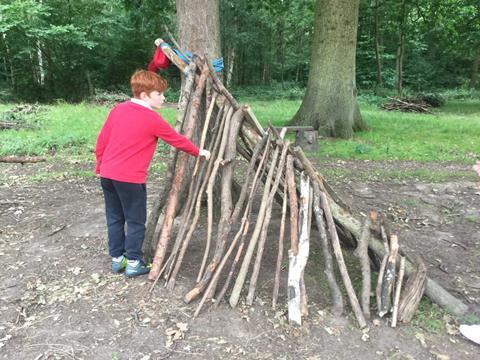 Emily said: "Once you go through the big wooden gates you are transported back in time. All the staff are in costume and remain in character the whole time. We were met by 'Manachar', who is Luca Parrella the co-founder of Celtic Harmony, and the children went with him to one of the roundhouses where they were asked how much they knew about the Stone Age, which set the scene for the day."
The youngsters then participated in a range of immersive activities led by various characters from the Celtic Harmony team.
"They learned that Stone Age people were hunter foragers not farmers and went out to forage for different foods which were painted on discs and hidden along a trail," explained Emily. "Once they had collected them they took them back to the roundhouse. This was a very funny session as the pupil who had picked a mushroom was told that he would probably die after eating it and had to lie down dead on the floor. By the end of the session only around a third of the children were left standing, which proved how difficult it was to survive."
Next came a hunting activity, one of the highlights of the day, when the pupils came across a life-size woolly mammoth made of out wood and had to stand behind a line throwing spears at two different sized targets, with points going to the best hunters who managed to hit the smallest mark.
"Later pupils were split into groups to make their own shelters in the woods," said Emily. "Afterwards they sat inside them to see if they could all fit and they absolutely loved this part."
Other activities included a demonstration of the art of fire lighting, followed by a story around the fire, and a flint knapping display followed by the youngsters 'soap knapping', or shaping, their own arrow heads.
Summing up Emily said: "The whole day captured their attention and there was plenty of hands-on activity. This year's group had considerably more boys than girls so the mix of activities and being outdoors worked so much better than if I had taken them to a museum with static exhibits. It is a fantastic day and really brings history to life."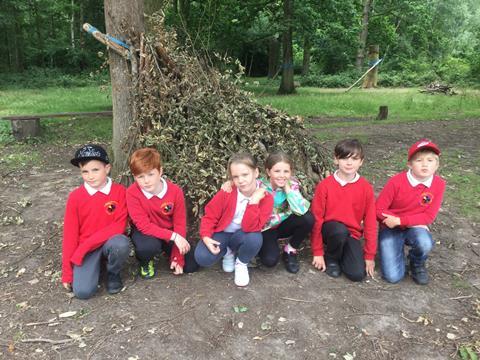 Back in the classroom
Each of the pupils wrote a thank you letter to Celtic Harmony and Emily also asked them to include their favourite part of the day. Around 90% of them said it was building the shelter and the rest enjoyed hunting the woolly mammoth.
"As the visit came at the end of the topic we finished by getting the pupils to write the letters and revisiting a mind map which we had done at the beginning of their studies," said Emily. "They were initially asked what they knew about the topic, which at the time wasn't very much. They added what they had learned since, and circled the parts that related to what they had learned on the trip.
"The children said it was their favourite ever trip, so we will definitely be going back soon! It will become a regular trip for us."
Useful contact:
Celtic Harmony:
01438-718543
www.celticharmony.org/schools