In Year 6, children from Harwell Primary School have a week's residential stay at Yenworthy Lodge, an outdoor activities centre set in six acres of woodland within the Exmoor National Park in Devon.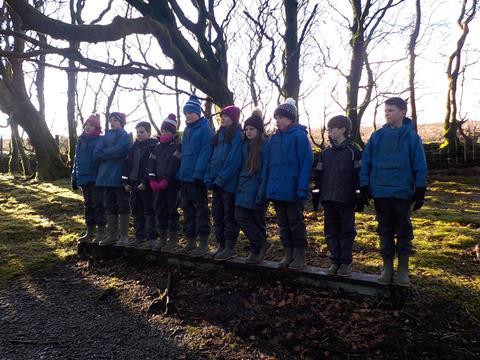 School: Harwell Primary School, Oxfordshire
Subjects: Geography, PSHE, Maths, PE, Science, Literacy, Art & History
Number of pupils: 22
It is within walking distance of beautiful open moorland, ancient woods, wild rivers, rugged and dramatic cliffs and rocky shores. The children spend a week learning new skills such as rock climbing, rock-pooling, coasteering, canoeing, surfing, and orienteering.
"Our school visited Yenworthy at the end of November 2017, and so were not very sure what the weather might be and if it will make some of our planned activities impossible", said teacher Oana Shorter. "We were very lucky to have had a very cold, but sunny and fantastic week!"
The residential trip began with 'Outdoor Business' with the children learning problem-solving skills, teamwork. It tied with the school's ethos and values of respect, resilience, resourcefulness and responsibility.
Oana said: "The next day the children went surfing and along with the staff, demonstrated resilience! Lots of teamwork, laughter and children catching the waves made the whole day/experience very rewarding for everyone."
Rock climbing, coasteering and rock-pooling followed the next day, and the children amazed everyone with their knowledge, respect and teamwork.
Oana said: "I cannot praise enough the staff at Yenworthy Lodge, for their careful planning of the activities, their knowledge and for their passion. They have a wide range of skills and experience, they are patient and you really feel like being part of a big family.
"We missed our friends and families at home, but we didn't want this amazing experience to end. It was sad leaving Yenworthy behind but we came back with lots of great memories and a little bit wiser."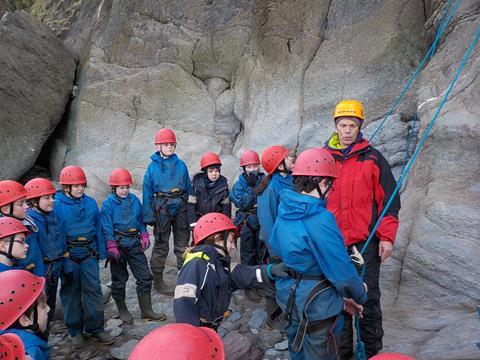 Back in the classroom
Oana said back in school it was fantastic to see the children putting in practice everything they learned during their residential trip. She added: "Working as a team it is very important too, listening to each other and solving problems together.
"Yenworthy residential trip is something that everyone should experience and the memories will last forever!"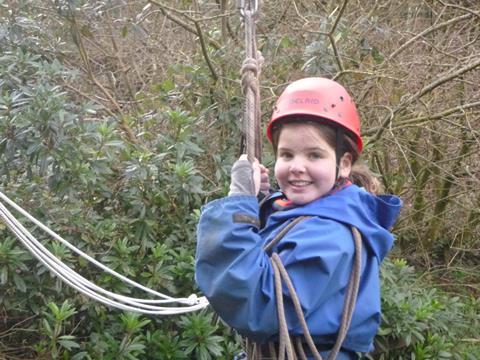 Pupil Ruby Edwards gives her account of the trip:
I had been looking forward to going to Yenworthy for around three to four years because everyone who goes from my school says it was amazing. I totally agree!
After arriving and having a quick tour, we got straight into activities, with a ropes course on the first day before a walk into Devon along the Moor.
On the second day we did 'risky business' - various outdoor activities that saw two teams go head-to-head to try and beat the other in challenges. I tried a lot of new things and the whole class tested themselves in many different ways.
That evening we did orienteering and my team won. Yay!
The next day was the coldest of the year – but it didn't stop us because we went surfing. I loved it and was one of the people who managed to stand up and catch a wave. Before that though, we had to do a press-up challenge which was hilarious because me and my friends can't do them so spent most of the time laughing.
We bought souvenirs from the shop that evening as well as doing a quiz around the site. We guessed a lot of the answers.
On Thursday we went to the beach and did some rockpooling, rock climbing and coasteering. The tide was so far in it made coasteering a lot of fun - my group even created a new gap in the rocks called 'The Harwell Squeeze!'
On the final evening it was 'Yenworthy's Got Talent!' Me and my friend made up a song but did not come in the top three. The judges were clearly not listening properly!
My stay at Yenworthy was amazing and I enjoyed every minute of it.
The food was really nice and the staff are fantastic, They gave us all nicknames - mine was 'Grubby Rubby' because I was always caked in mud!
I really want to go back!
Useful contact:
Yenworthy Lodge
01598-741266
www.oxfordshireoutdoorlearningservice.co.uk