Lee Strickland of Cohort St Ives explains the link between water and children's emotional wellbeing, creative thinking and academic achievements.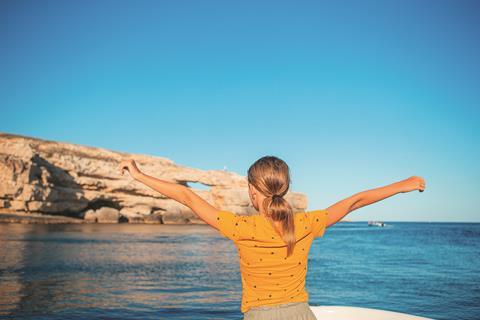 Recent studies have shown that individuals experience increased happiness when spending time in marine and coastal areas. 'Blue health' has become a catch-all term for how being near water benefits our emotional wellbeing.
With mental health so high on the national agenda, picking your school trip destination to prioritise these blue spaces is likely to deliver a healthy dose of wellbeing alongside specific learning outcomes.
Children can lose themselves in blue spaces and coastal areas have been proven to have a restorative effect on their psyche. A few years ago, we hosted an inner-city school at Cohort and the ocean had such an emotional impact on the students that they waded into the sea in the middle of October to enhance the restorative feelings they were experiencing (all perfectly risk-assessed, of course).
While somewhere like Cornwall is an obvious place to experience this, the good news is that you don't have to travel to the ocean to enjoy this uplift, as blue spaces within urban environments have been shown to have a positive effect, too.
Being near blue spaces is also an opportunity to explore environmental issues, as more and more marine and coastal regions come under threat from a variety of factors, such as extreme weather conditions, pollution and socio-economic changes which disrupt the delicate balance of coastal communities.
Trips to the seaside can incorporate a beach clean which is a completely free activity and can hammer home the impact of plastic pollution. Students at schools who have incorporated this environmental element into their trips often leave with a greater awareness of the natural world and their personal responsibility within it.
This, in turn, impacts the academic work they produce, often influencing art work, geographical field investigation and creative thinking.
There are plenty of organisations out there – Beach Guardians and Surfers Against Sewage, to name just two – that make it their mission to educate pupils on how to take care of our natural blue spaces.
Schools can find local representatives to conduct seminars and presentations – they are almost always free and make a hugely worthwhile evening activity on a residential, engendering a sense of perspective which can be explored and developed back in the classroom.
Lee Strickland is co-founder of Cohort St Ives, an innovative accommodation provider which supports schools to deliver inspirational itineraries and learning through experiential travel. Find out more at www.education.stayatcohort.co.uk or email hello@stayatcohort.co.uk.
BlueHealth is a pan-European research initiative that investigated the links between urban blue spaces, climate and health. For more information visit www.bluehealth2020.eu.