A free, five-day itinerary for schools, which has been especially put together for teachers taking their class to Jersey for the first time, explores some of its historical links and popular beaches.
Jersey offers pupils a range of different experiences which link to a variety subjects, whether taking place on the water or touring its historical and cultural landmarks. The new itinerary aims to cover lots of interests for children of all abilities, with highlights including:
Foraging for food and making fires
Surfing
Discovering the island's link to World War Two
Paddle boarding
A trampoline disco
Below is a breakdown of what visiting school groups can expect on Visit Jersey's suggested itinerary:
Day 1
Arrive in the morning from one of the many UK airports that serve Jersey or use Condor Ferries from the UK and France. Full details on airlines and routes can be found here.
Accommodation
Head straight to the Jersey Accommodation and Activity Centre (JAAC) and get settled in. Located in St. Martin on the east coast, it is Jersey's only residential adventure and activity centre. The organisation has years of experience with school groups, providing useful information for first-timers.
Afternoon and Evening
Take the short walk down to Long Beach in the Parish of Grouville and take part in some beach games. Head back to the JAAC where dinner can be provided for your class.
Day 2
Morning
Foraging with Kazz from Wild Adventures. Discover wilder parts of the island by hunting down natural, edible and medicinal plants. Classes will do this by using natural navigating skills and making cordage using plants & trees. Groups can also have a go at creating fire by friction or other more modern methods.
Lunch
Either arrange with the JAAC for a packed lunch or pre-book a visit to The Line Up. A relaxed beach shack where children can eat on the beach or sit on the sea wall overlooking the waves.
Afternoon
Jersey opened Europe's first surf school in 1914, remaining a popular activity among the locals. Pupils can take part in all-year-round surf lessons at the Splash Surf Centre, which is able to tailor-make a surf programme to suit all surf levels, timescales and budgets. As a sister company to Absolute Adventures, on the rare occasions that the conditions aren't suitable for surfing, it will be able to provide an alternative option.
For more school trip ideas in Jersey, see our feature September 2019 edition of School Travel Organiser here
Evening
Back to the JAAC for a BBQ dinner. After dinner, children can make use of the many facilities within the grounds which are free for residents; table tennis, croquet, football, volleyball, garden chess and boules.
Day 3
Morning
A visit to the Jersey War Tunnels. The exhibition is housed within an underground tunnel complex, built by the Germans using slave labour. By bringing the occupation to life, the exhibits help today's young people understand what life was like on the island during World War Two.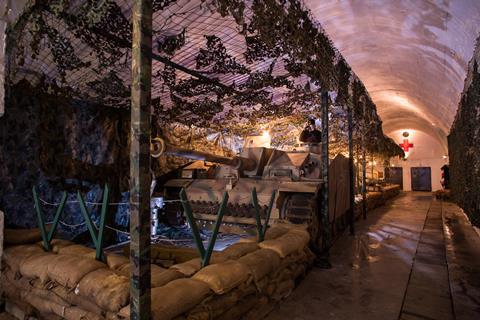 Afternoon
Head into St. Helier for an afternoon in the island's capital. The Central and Beresford Street Markets, which sell fresh produce and crafts, are an integral part of Jersey's heritage. They are a source of pride for many islanders and have served the community for more than 200 years. School trips can also include the Museum and Art Gallery, which showcases history from 250,000 years ago when the first people arrived in Jersey.
Evening
The beach at St. Brelade's is considered by islanders as the most beautiful in Jersey. Order take-away pizza from the near-by Pizza Express and take in the view. Children can then have a go at stand up paddle boarding or a kayaking session with Absolute Adventures. Activities are suitable for people of all ages and abilities.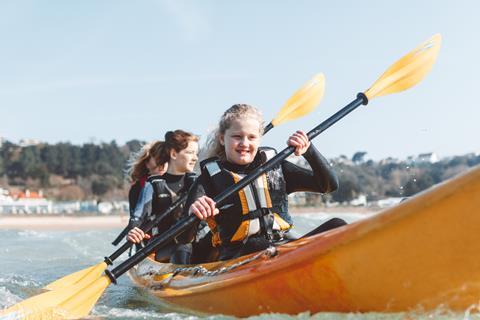 Day 4
Jersey Adventures can plan a variety of activities either around the island or based at the JAAC, with options ranging from abseiling off of Mont Orgueil Castle, coasteering, climbing, blo-karting, paint balling, disc golf and bushcraft.
Evening
The JAAC can organise a farewell disco, or for a disco with a twist, schools can pre-book a slot at the island's newest attraction Jump Jersey. A two-hour trampolining disco, with a live DJ and full lighting show, mixed in with other fun areas at the attraction such as dodge ball, a foam pit, Ninja Warrior course and Total Wipeout machine.
Day 5
Before heading off, groups can squeeze in one last experience and visit Jersey Zoo, opened by Gerald Durrell. 60 years later, the zoo still houses a variety of animals and supporting activity sheets or taught sessions with zoo staff can be organised to enhance your school visit.