We hear from London's Lyceum School about reliving World War Two history on a trip to Milden Hall in Suffolk.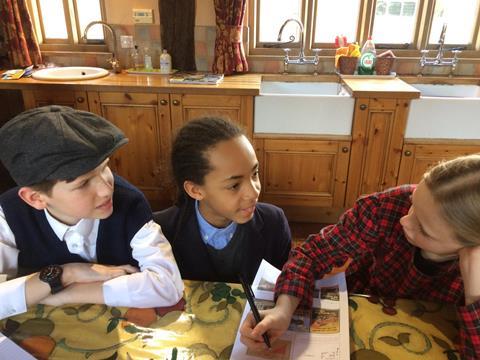 Year 6 children at the Lyceum School went back in time to relive history as they learnt about World War Two.
They immersed themselves in the past to find out what life was really like for children their age from 1939-45.
In their living history module, 12 pupils dressed up as evacuees and spent a week away from home and their parents.
But it wasn't just history they were touching upon in the curriculum, as they also incorporated English, Maths and DT into their World War Two learning.
The ten and 11-year-olds wrote letters home to their families describing what life is like as an evacuee, they used ration cards to 'pay' for their food for the day, made Anderson Shelters in DT and helped prepare meals and did the washing up.
They also collected wood to make fires, learnt World War Two songs and tasted foods from the time such as pigeon pie.
Pupils at the Lyceum School take part in immersive trips from Year 3 onwards and have also experienced what it's been like to be a child in Tudor and Victorian times.
Want to win £1,500 towards a future school trip?
Make sure you enter the 'My Best School Trip' Award for 2019/20 to be in with a chance of winning prize money towards a future school visit. Click here for all the information, and how to enter.
For information on all of the School Travel Awards, head to the dedicated section here.
Hilary Wyatt, headmistress at the school, said: "At the Lyceum we strongly encourage this immersive way of learning and layer it together with all our subjects. It gives pupils a well-rounded experience and they thoroughly enjoy the trips and look forward to learning about the past both in and out of school.
"Prior to leaving for their trip, war artefacts such as gasmasks were brought into the classroom and they also learnt about propaganda which inspired them to create their own posters.
"It's always so great to see the children fully engaged in the historical activities and they always look forward to our living history trips and finding out what life was like all those years ago."
About Milden Hall
Milden Hall farm offers two large and separate self-catering options and bed-only accommodation in the Hall farmhouse. It offers schools residential trips as well as day visits alongside its unusual 16th century barn accommodation. Between 30 and 60 students and staff can be accommodated for the various trip options.
The Tudor farm life options allows children to step back in time and try out some things that Tudor peasants - and a few wealthy ones - did on the farm in the late 1500s. Days can be tailored to suit curriculum needs including various activities.
For more information visit www.thehall-milden.co.uk/ or contact 01787-247235.