Hayesfield Girls' School in Bath shares its creative residential to Cohort in St Ives, where pupils took part in activities linking to studies in art, photography and PE.
Hayesfield School in Bath has always prioritised residential trips for their students knowing how much they benefit from them both in the short and longer term when it comes to engagement and increased connections with peers and staff. When Covid hit and impacted every trip that the school had planned, their emphasis was on postponement rather than cancellation, not wanting to disappoint students or let down suppliers.
One of the postponed trips from 2020 was to Cohort, St Ives, an innovative hostel which supports schools to deliver inspirational itineraries and learning through experiential travel. Set in the centre of St Ives, offering easy access to everything this vibrant town has to offer, it was a big hit when the school first visited in 2019. The 2020 trip was dubbed an 'art, photography & PE trip' as part of the school's Enrichment Week in July and it was postponed until July 2021. Less than three weeks before the trip for 43 girls and five staff was scheduled, the Government postponed Step 4, meaning that no more than 30 children were allowed on a residential under Step 3 guidelines.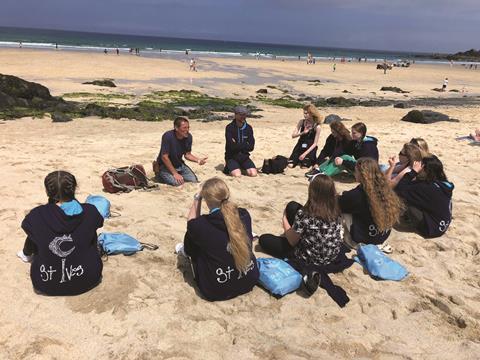 However, after months of school closures, restrictions and exam cancellations and knowing how important school residentials are, one very tenacious and experienced school trip organiser, Brenda Brian, was not going to give up that easily. She redesigned the trip, by splitting the students into two smaller groups, swapping mid-way through the week so that they could all experience Cornwall and the wellbeing and curriculum benefits it offers.
"I was determined that there was still a way forward, and that the trip could go ahead, so the students would have a fantastic itinerary, and a full curriculum experience," said Brenda. "All the girls were GCSE students in the trip subject areas. The work they produced whilst away would be taken forward into their Year 11 coursework and exams."
What has helped your school embrace more learning outside the classroom? We'd love to hear from you and share with other teachers. Get in touch by emailing editorial@schooltravelorganiser.com
The original, art, photography, textiles & PE itinerary for 43 students over four days included the Eden Project, Sand Sculpture workshops, workshops at Leach Pottery, a surf lesson, sketch book tours of St Ives, photography workshops, visits to Tate St Ives and the Barbara Hepworth Sculpture Garden, Cyanotype (photographic) workshops, a yoga session and Textile workshop. This was on top of movies, sketching sessions, pizza nights and lunches on the beach.
With the school's backing and within just a few days, she put together the split week. Brenda continued: "Working closely with Lee at Cohort, and all the workshop tutors and suppliers, plus a great local coach company, Williams Travel, it all came together.
"It was all so worthwhile to give the girls the experience. Any anxiety felt just melted away, as we departed, twice, dressed in our trip hoodies. The benefits were not just about their curriculum work, but as much about building confidences, and healing worries born out of the lockdown situations."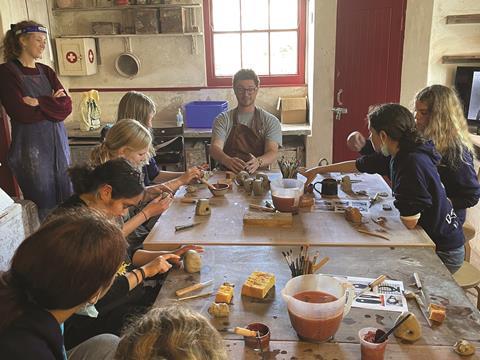 Breaking it all down the middle was a seemingly impossible task – booking more coaches, co-ordinating more staff and contacting suppliers, without taking away from the experience or ensuring that students didn't feel rushed or stressed.
However, it was planned to the second and thanks to the supreme efforts of Brenda, and willingness of all the local suppliers to be flexible, the final itinerary (duplicated for both groups) involved almost all of the activities in the original trip including a surf lesson, textiles, photography and sand sculpting workshops, visits to Tate St Ives, Barbara Hepworth Museum and Sculpture Garden and Leach Pottery; along with plenty of time to chill on the beaches and in the accommodation.
Cohort co-owner Lee Strickland summed up: "Mrs Brian has an unending belief in the power of school trips such as these, she never says never and if it can be done she will ensure it is. Student memories are created by people like Mrs Brian and all the suppliers who turned everything around to make this trip happen in the most challenging of circumstances."
Cohort, St Ives is an educational trip accommodation provider, with sustainability at its core. The team says it supports pupils in delivering 'inspiring and transformative learning experiences'. More information is available at www.stayatcohort.co.uk.