Alan Butters from Bluecoat Beechdale Academy in Nottinghamshire won £1,500 after being crowned School Trip Champion at the 2018 School Travel Awards. He reports back on what they did with the money.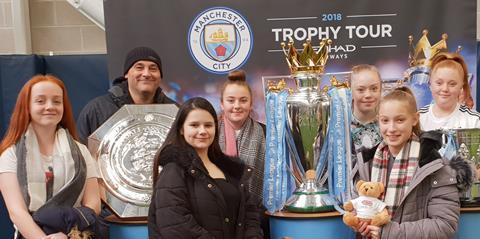 Winning the School Trip Champion Award has opened other doors for me and the pupils I work with. It has allowed me to approach other companies to ask for opportunities for the students and school.
While at school, I was previously asked to take part in a study that was commissioned by the Children's Society to look at the lack of girls participating in sport in the local areas. This study highlighted some very upsetting facts that in general girls were put off sport by the way they had been made to feel about their bodies. This in turn was causing stress and lack of self-esteem.
After reading the findings of this study, I started to set up girls only sports sessions, these were all held in an environment where the girls felt safe and comfortable and they were massively successful with an average of 40 girls at each session.
Winning the prize money allowed me to take the next steps along this process and actually take a group of the girls away on a football residential. A company that had heard of me through winning the award made contact and offered me an unbelievable opportunity.
I was invited to bring a group of 40 students away on a residential weekend based around Premier League football. The prize money allowed me to take 15 female students free of charge on the residential.
A "fantastic opportunity"
It started off on the Saturday with us travelling on an executive coach from Nottingham to Manchester. When we arrived we were treated to a full behind the scenes tour of the Etihad Stadium including having photos with both the FA Cup and the Premier League Trophy. The students were then transported to the Bolton Whites Hotel where we were staying for the night.
We then got to go and spend some time bowling and having dinner whilst discussing what they had liked about the stadium and how good the match was going to be the next day. On the Sunday morning we had breakfast at the hotel before being transported into the centre of Manchester to visit the new National Football Museum.
Pupil comments
"My brother watches football with my dad all the time, he was so jealous when I got back and showed him all the photos." Sky, Year 8.
"At first my parents were not going to let me go on this trip until Mr Butters explained the importance of girls being exposed to these types of activities and the confidence this type of visit will help us build. I am glad I went because I had the best time. I got to play some football which is not something I normally do and I got to sit on the front row and watch the players which was unbelievable and something I will remember long after I leave school." Loren, Year 9.
"This was my first experience of watching a live football match, I really enjoyed the visit and would definitely recommend it to other girls and would tell them to ignore what boys say, sport is for all of us." Paige, Year 8.
The girls were then taken to the Manchester City Academy to take part in a training session with the City coaches; this was then followed by front row seats back at the Etihad Stadium to watch Manchester City take on Arsenal in a Premier League clash.
For female students to be given this opportunity is fantastic as this type of visit would normally be dominated by the boys at school, this was the perfect way of showing girls that sport and football in particular, are not just for boys.