Katherine Higgins, curriculum leader in design and technology at Hayesbrook School in Kent, first heard about Bore Place through word of mouth.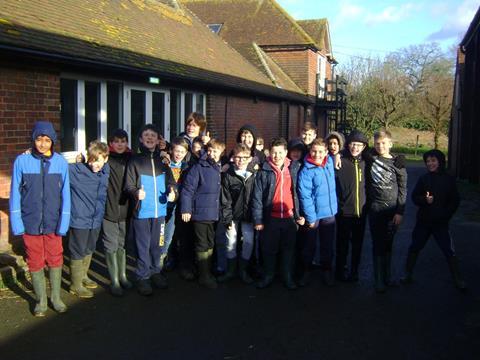 School: The Hayesbrook School, Kent
Subjects: Food Technology, PSHCE and Geography
Number of pupils: 20
Another teacher recommended the place to her and following a bit more research she decided to book a trip for 20 Year 7s and Year 8s.
Hayesbrook School is an 11 to 18 boys' wide-ability academy with more than 750 pupils on its roll. The school puts an emphasis on extracurricular activities and enrichment, giving students the opportunity to participate in the Duke of Edinburgh Award in addition to offering learning outside the classroom experiences. In the past year the school has hosted trips to everywhere from Reculver on the Kent coast to CERN near Geneva.
Corralled by 500 acres of countryside, Bore Place is a period property with a timeline that can be traced back to Tudor times. Today, it's home to The Commonwork Trust; a charity that's dedicated to exploring how humans can live and work sustainably and working towards sustainable solutions in farming, education and the environment.
The grounds of Bore Place feature an organic dairy farm, organic market gardens, and environmental education centre and event facilities. Its schools offering, meanwhile, is broad. Opportunities range from day visits to residentials, and there are options for pupils from Early Years to Key Stage 3.
The visit themes that Bore Place offers range from Environmental Art, Minibeasts Habitats and Healthy Eating and Staying Active to Seasonal Prepare and Share sessions and Fairtrade workshops that explore the ethical dilemma of buying Fairtrade versus local produce.
Katherine Higgins wanted to link her visit to Food Technology, although the trip content also touched on PSHCE and Geography.
"We wanted to give students the chance to learn outside the classroom and develop a better understanding of where our food comes from and what it takes to get it to us," Katherine explained.
Before the tip took place, Katherine prepped her class by briefing them on the health and safety implications of being on a working farm. Then, on the day, the trip was split into four sections. Part one saw pupils visiting Bore Place's market garden to be introduced to the concept of sustainable practices.
"The students had the opportunity to record the range of plants grown and identify examples of sustainable practice," explains Katherine. "They were also encouraged to think about how food is often sourced from a wide geographical area and the vast, often complex, implications of these decisions. This topic was explored further by getting students to examine the issues surrounding the decision to purchase imported Fairtrade green beans or beans from a local organic farm."
Part two of the trip took students into the farm where they looked at inputs, outputs and learnt how the cows were looked after, what they ate and what they produced. For part three of the trip the students were shown how to make their own sustainable pancakes.
"The students were given the opportunity to discuss the impact that food choices can have on the global community," said Katherine. "Once the pancakes were made, they got to discuss their choices for sustainable pancake toppings."
The final section of the trip revolved around waste sorting, with students being advised on how to sort their lunch leftovers and packaging into the correct bins.
"There were also discussions about how the students could reduce, reuse and recycle their waste," said Katherine.
The trip to Bore Place has inspired the whole of Hayesbrook School to improve their in-school recycling so that more waste sorting activities can take place.
"The students really enjoyed the tour at Bore Place and the hands-on activity of making pancakes," Katherine reflects. "Being close to nature and experiencing the market garden and cows is something that we could not have recreated in the classroom."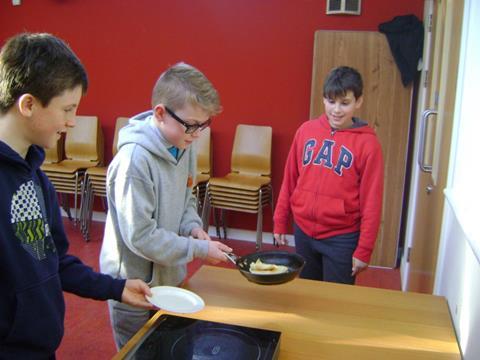 Useful contact
01732 463255
becky.baldock@boreplace.org
www.boreplace.org