The positive reaction to the School Travel Awards was felt way beyond the Royal Lancaster Hotel, with a huge range of pictures, reactions and comments posted across social media. Here's just a selection but you can find more by searching for #SchoolTravelAwards.
Yesterday our wonderful HLTA, Tracey, attended the @SchoolTravelOrg awards as a finalist. 🤩 It was a great event which showed the continued support of the work she does to development the lives of young people! Well done Tracey and all of the finalist that attended! 💚💛❤️ pic.twitter.com/rwhTopbmSN

— Ramsden Hall Academy (@RamsdenHall) May 26, 2022
I am privileged to work with an amazing team across all departments @hevercastle and today was an achievement for everyone. But particular congrats go to my Learning & Engagement and Group Visits team who have worked so hard the past year. So proud #schooltravelawards pic.twitter.com/uNRW27u2uX

— Faye Kelly 🌱 (@Fayerella) May 25, 2022
So proud of the team at @RHSWisley that our school visits programme was a finalist in the #SchoolTravelAwards for the first time ever.

We were pipped to the post by the great @LEGOLANDWindsor , but partner garden @hevercastle won best heritage venue! 😃👏 pic.twitter.com/Lx2SI7uc08

— Dr Suzanne Moss 🌱📚🌳🏳️‍🌈 (@DrSueMoss) May 25, 2022
Some of the team are fighting back happy tears. The last couple of years have been challenging. WST are proof that with the right morale, teamwork and dedication, you really can be the best! Here's to the future #celebrate #SchoolTravelAwards #winners pic.twitter.com/jf9tNLoCp5

— WST School Travel (@WSTSchoolTravel) May 25, 2022
Winners of 'My Best School Trip' at the national School Travel Awards 2022. A great partnership between school and YHA for over a decade. So happy that we could run the 2021 trip and give our wonderful pupils the trip they deserved. @YHAOfficial @YHAPerranporth @SchoolTravelOrg pic.twitter.com/JHwjgaWaLD

— Grendon Primary (@GrendonPrimary) May 28, 2022
Not winners today but the team are still smiling at this fantastic awards ceremony thanks to the brilliant team @SchoolTravelOrg huge congrats to all the amazing and well deserving winners 👏👏✨ #SchoolTravelAwards pic.twitter.com/9jU5hq8bVl

— Heritage Education (@EHEducation) May 25, 2022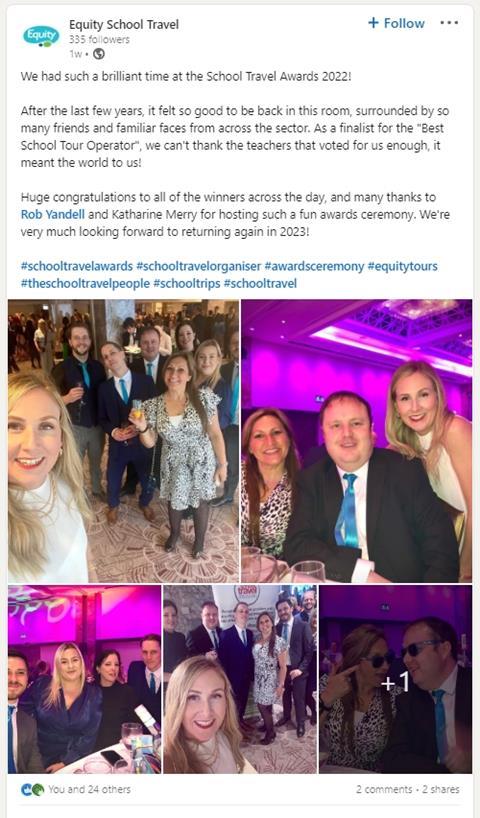 We won! 🎉🏆🥳

Thank you so much to the readers of @SchoolTravelOrg for voting @I_W_M as the best museum visit of the year, huge congrats to all the winners and nominees! #SchoolTravelAwards pic.twitter.com/e3Bw97ul1o

— Clare Lawlor (@_Clare_Lawlor) May 25, 2022
Education is at the heart of what we do at @Nat_Mem_Arb. We want future generations to understand the stories behind our memorials so they to can say "we will remember them".

I'm proud of the work that our team do and delighted that this has been recognised by @SchoolTravelOrg https://t.co/6yvBqwbCJU

— Mark Ellis (@MJ_Ellis) May 25, 2022
Congratulations to @I_W_M! It was great to be shortlisted alongside a very worthy winner, as well as other nominees @BCLivingMuseum, @britishmuseum, @HSMOxford and @thackraymuseum. #SchoolTravelAwards https://t.co/41bGE6QCxl pic.twitter.com/zPRHgqkI1n

— Aerospace Bristol (@BristolAero) May 25, 2022
Snozone, 2 time winners and 6 time finalists of the @SchoolTravelOrg School Travel Awards in the category of Best Sporting Venue for children learning outside the classroom, are delighted to be announced as Winners again for 2021/22! https://t.co/aaYsz6ASuq #schooltravelawards pic.twitter.com/IBLppFJeuR

— Snozone UK (@Snozone_UK) May 25, 2022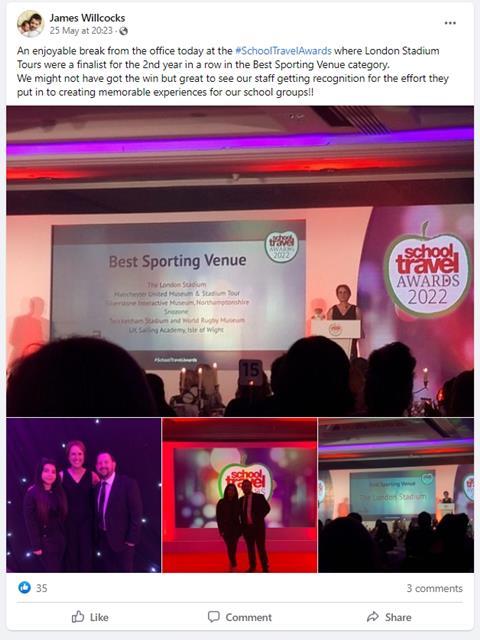 Huge congrats to our fellow nominees Imperial War Museum @I_W_M for winning Best Museum Visit category at the @SchoolTravelOrg Awards today! 🎉
We were honored to be nominated for the work that we do with school groups and shared the category with some fantastic organisations. https://t.co/xknWuNjAWh

— Black Country Living Museum (@BCLivingMuseum) May 25, 2022
Sad not to win @SchoolTravelOrg #schooltravelawards 😔 HUGE CONGRATULATIONS 🎉🥳🍾 to the winners and all finalists who all have done and continue to do amazing things to support the development of young people #morethanyouthink pic.twitter.com/ecAKe2LNCh

— Paul Marshalsea (@PMarshalsea_OBT) May 25, 2022
As a @SchoolTravelOrg partner, we are proud to present @I_W_M with the award for Best Museum Visit🎉👏 #SchoolTravelAwards pic.twitter.com/UxKqcmacbj

— KidZania London (@KidZaniaLondon) May 25, 2022
Our Head of MasterClass Sales and a selection of our team were invited to the School Travel Awards yesterday to celebrate our contribution to sports and education outside the classroom. Thank you @SchoolTravelOrg for such a fantastic event. Looking good guys! 🥂 pic.twitter.com/mxyA8Mdmxr

— MasterClass Sports Tours (@MCL_SportsTours) May 26, 2022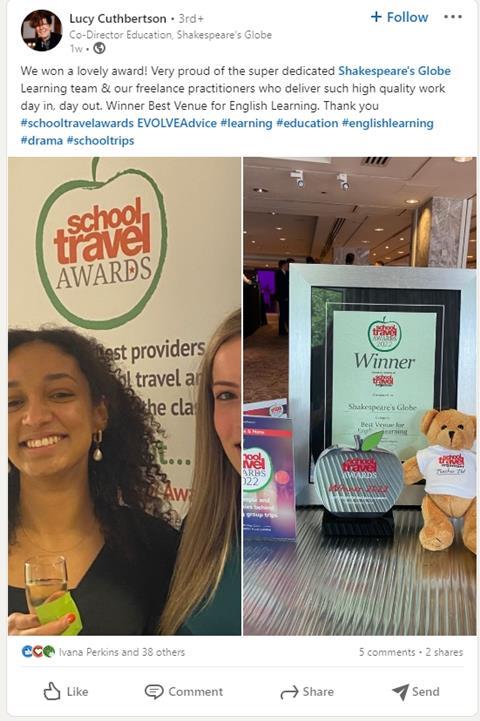 Congratulations to Sue Dutton from Sherbrook Primary School, School Trip Champion winner! Very well deserved.#schooltravelawards@SchoolTravelOrg @KatharineMerry pic.twitter.com/fyilMQfLHg

— School Travel Forum (@STF_Forum) May 25, 2022
We are so excited to be at the #schooltravelawards, thank you @SchoolTravelOrg! Amazing entertainment, incredible food and a great opportunity to celebrate the return of #schooltrips! 🥂 pic.twitter.com/s1fxRsfBvO

— Halsbury School Travel (@HalsburyTravel) May 25, 2022
Congrats to @zellamseekaprun for winning "Best Ski Resort" at the #SchoolTravelAwards 🥳 #feelaustria https://t.co/S7fzRkhblh

— Austria_UK (@Austria_UK) May 25, 2022
To see who won click here and find everything you need to know about the School Travel Awards here.