The School Trip Champion award recognises an individual who goes above and beyond in delivering school trips and learning outside the classroom experiences.
It comes with a prize of £1,500 to spend on a future school trip.
Nominations will be open in due course and details will be available here and in an upcoming edition of School Travel Organiser Magazine.
The 2018/19 School Trip Champion
Alan Butters, Enrichment Coordinator at Bluecoat Beechdale Academy, Nottingham, was crowned School Trip Champion at the School Travel Awards ceremony in November last year.
Giving up an average of 300 hours unpaid time every year, Alan is responsible for enriching students' lives and he's certainly doing that. In his time at the school he has built up strong partnerships with the local universities, giving students the opportunity to access workshops and campus visits.
He has also started an annual four-day visit for the Year 7 students to go to Paris, experiencing the Eiffel Tower, Euro Disney and other landmarks. Alan prides himself on ensuring that all students have access to a residential visit in each of the school years and runs a week's Outward Bound visit as well as various career-based workshops and apprenticeship opportunities outside the classroom.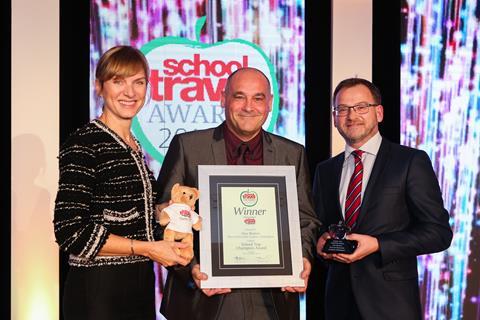 He added: "This has all been achieved with no budget from the school and where the students are living on one of the poorest estates in England with the second highest level of childhood poverty in the country.
"Not only do I plan all the visits, residentials and workshops but I attend them all, giving up on average 300 hours of unpaid time per year."
The 2018/19 School Trip Champion finalists were…
Dominic Brister – Educational Visit Coordinator, Stamford Welland Academy, Lincolnshire:
Dominic has progressed to EVC and adapted the school's policies to make learning beyond the classroom part of the ethos of the school, ensuring that every single child has access to at least one trip each year.
Described as "inspirational", a "truly passionate teacher" and a "great man", Dominic has taken thousands of students to the Lake District and hundreds to Ben Nevis as well as helping to organise and support trips across Europe.
Jon Clarke – Shadow Head, Walsall Academy, Bloxwich:
Jon has been described as a "leading light for the use of outdoor adventurous learning" and is recognised as having made a "huge impact", not just on his school, but nationally.
He led the first state school expedition to Everest Base Camp and in the last 14 years has taken students on 75 Outward Bound visits, 14 ski trips, battlefield tours and language visits to France and Germany, to name but a few.
Nic Williams – Director of Business & Community, Blue Bell Hill Primary School, Nottingham:
Nic works tirelessly to provide the children at the school with as many innovative learning outside the classroom experiences, enabling them to see the bigger picture.
Described by colleagues as "the heart and soul of the school", Nic is instrumental in enhancing the learning the children do in the classroom, whether it's inviting people from the community into the school or organising off-site learning visits.