Olympian Katharine Merry, who holds a number of World age-records and is a successful broadcaster, will host the School Travel Awards ceremony on Thursday 20th May at 4.30pm.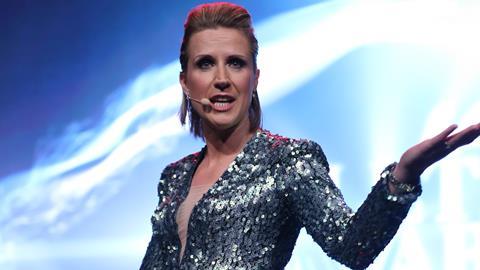 This year the School Travel Awards ceremony will be broadcast online from a special studio when all the winners will be revealed.
Former athlete and broadcaster, Katharine Merry has been confirmed as this year's awards host, so make sure you join her for this special celebration through schooltravelorganiser.com/awards using your desktop, tablet or smartphone - with no log-in required.
Introducing Katharine Merry, the athlete turned broadcaster
Born in Warwickshire, Katharine had an athletics career that spanned 20 years. She was the fastest girl in the world aged 14 years, and started her international GB career aged just 13, staying on the junior team for a record six years, winning five Junior Championships and a total of six medals.
She became a successful senior athlete with her Olympic medal in Sydney in the 'Race of the Games', winning bronze behind the Australian favourite, Cathy Freeman. The following year Katharine became world number one. She is still third-fastest on the UK All Time 400m list with a time of 49.59 seconds.
After suffering from a bone spur growth on her right heel bone, and two operations, Merry announced her official retirement from athletics in 2005.
Katharine now works freelance in the media on radio and TV which has included working in Beijing and London at the Olympics for the BBC.
She is a regular on BBC's A Question of Sport and BBC 5Live's Fighting Talk. Her other appearances include the BBC's Celebrity Pointless, Celebrity Mastermind, A Question of Sport, Celebrity Antiques Road Trip and Total Wipeout.
The School Travel Awards: a special event
The School Travel Awards recognise the people, venues and teachers involved with school trips and learning outside the classroom. There are a total of 18 categories including the 'My Best School Trip' Award and the School Trip Champion, both of which come with a £1,500 prize for the schools to spend on a future educational visit.
Publisher of School Travel Organiser Rob Yandell said he was delighted that Katharine Merry would be hosting the ceremony in May.
He said: "It's very fitting that somebody with Katharine's incredible career, that began at the age of just 12, is joining us for the School Travel Awards ceremony. She is a fantastic role model for youngsters, and adults alike, and her achievements are testament to her experiences, commitment and hard work throughout her childhood and beyond.
"We have been busy behind the scenes preparing for what is set to be a fantastic celebration of school trips and educational experiences that have a huge impact on those involved. Please join us on 20th May at 4.30pm."
For more information on the School Travel Awards, including a list of all the finalists, video content and images, see our dedicated Awards Section.