Ripon Museums bring the world of Dickens and Victorian crime and punishment to life.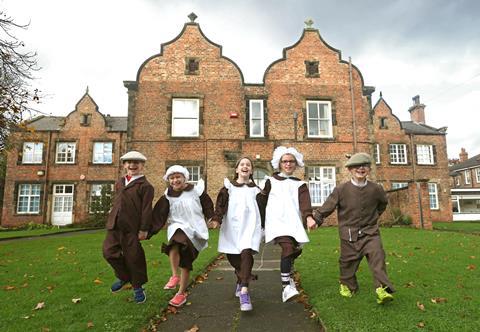 Provider: Ripon Museums, Yorkshire
Subjects: History, Literature, Citizenship, and SMCS (Spiritual, Moral, Social and Cultural development)
KS: 3&4
This collection of three Victorian institutions tell the story of the tough world of Victorian social justice: a Victorian workhouse, a Georgian prison and a courthouse dating from 1830.
Concentrating on immersive learning through costumed role-play, costumed interpretation, authentic environments, object handling and hands-on activity, students discuss some of life's big questions – what is fair punishment? How do we look after people who cannot take care of themselves?
Secondary groups tend to visit for the day and visit all three museums, which are within a five minute walk from each other in the centre of Ripon and only a few minutes from the coach park.
10am: Meet and greet at the coach park
10:15am-11:15am Visit the Courthouse Museum. The courthouse has its original fittings – the magistrate's bench, jury benches, public gallery, holding cell, the dock and witness boxes (complete with a step for accused children to stand on). Parts are given out to pupils – accused, magistrate, witnesses, defence and prosecution lawyers, clerk of the court, and jury – so they can play out a mock trial, based on a trial from museum records. Afterwards the group splits into two to decide if the trial was fair and what would be a just punishment for the crime.
11:20am-12:20am Visit the Prison & Police Museum. Until 11:50am, the group will look at document and object handling around the arrest of notorious local folk heroes, the Sinkler Brothers, for poaching by Ripon's early policemen and their transportation.
11:50am-12:20pm Pupils take part in a 'Doin' Time' workshop, an enquiry-led exploration of the prison cells and punishment.
12:30pm- 1:15pm Lunch at the workhouse Museum
1:15pm-1:45pm Workhouse Guardians' role-play. This looks at the Victorian idea of the deserving and undeserving poor and takes place in the comparatively grand Guardians' Room at the workhouse. Half the group are Guardians, sitting in judgement at their large table, half are paupers with heart-rending back stories. The Guardians interrogate the paupers about their circumstances then apply the rules, as set out by the Poor Law, to decide whether to admit paupers to the workhouse or award outdoor relief (payments towards rent, food etc.) or turn people away with nothing.
1:45pm-2:30pm Workhouse site tour and laundry or chores session. The tour makes clear the segregation for families that was a fact of life in the workhouse and finishes with an energetic hands-on work session at the laundry, using dolly tubs and mangles supervised by the exacting Porter or Matron.
Contact information:
01765-690799
www.riponmuseums.co.uk