The palace's first ever schools festival will be a multi-sensory experience of history, aiming to give pupils an immersive and authentic experience, running from 15th - 19th June.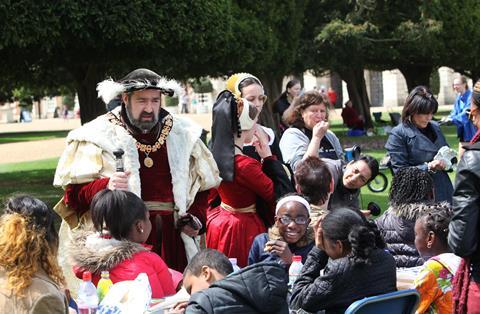 To mark the 500th anniversary of the Field of Cloth of Gold in France, the Great Tudor Schools Festival will teach children why King Henry VIII and Francois I of France held a huge tournament, both attempting to outshine the other with displays of wealth, such as grand feats, jousts and games.
Visitors can take part in a wide range of activities, such as: watching the armouring of a knight, practising for a joust, observing real Tudor crafts, watching a performance and playing games.
The festival is included in the admission price to the palace and is suitable for Key Stages 1 - 3, as well as special schools.
A full-day experience at The Great Tudor Festival:
Allocated time to explore the festival site and take part in the various activities available.
A timed Tudor performance by costumed presenters.
Time to explore the palace as a class independently.
An allocated lunch slot/time to picnic in the gardens (lunchrooms cannot be guaranteed).
You can see can get a taster of what to expect from the video below…

Curriculum-based sessions
Between 20th April and 10th July, visiting schools can also book onto different workshops, suitable for a range of Key Stages and needs, covering a variety of historical periods linked to the palace.
Whether it's the Tudors, Stuarts or Georgians, there are lots of different sessions which focus on the palace's architecture, kitchens, gardens and more.
The team at Hampton Court Palace also has a series of SEND (Special Educational Needs and Disability) workshops, including 'Palace arts' which looks at life at the site during the reign of King George II.