A new UK tour for The Curious Incident of the Dog in the Night Time, running from now until September, has an educational session available for school groups.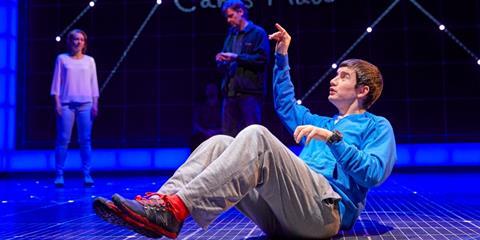 A Curious Incident Insight Session is an hour-long interactive insight into different aspects of the current production, led by Kim Pearce – the resident director on both UK tours of the play.
Teachers can choose from the following options to be the main focus of a workshop:
Inside the Rehearsal Room: an overview of how the creative team worked collaboratively to bring the production to life including practical interactive demonstrations of how the actors and directors work in rehearsals to unlock the script.
Technical In Focus: a multi-media insight into the processes used by the design team when imagining this production for the first time and how the audio/visual elements have evolved in line with the staging from in-the-round to proscenium arch.
From Novel to Play: a practical session using writing exercises to explore how dialogue, character, comedy and tension can be shaped through exploration of the novel.
The workshops are suitable for any school group seeing the production, up to a maximum of 90 students at a time on any weekday during the run of The Curious Incident of the Dog in the Night Time.
School Travel organisers should visit the website of their local venue for details of times and dates.
More tour information
The 25 city tour of The Curious Incident will be stopping in location likes Belfast, Oxford, Cardiff and Southampton before ending finishing at the Milton Keynes Theatre on 16th September.
The show tells the story of Christopher Boone, who is 15 years old, suffers from Asperger syndrome, and is a mathematical genius.
For further information visit www.curiousonstage.com/tour.
(Photo credit: Brinkhoff Mögenburg).