Mojo Active is one of Bristol's largest outdoor activity centres located in 150 acres of private fields and woodland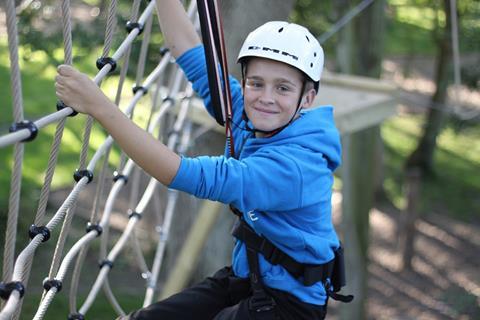 Itinerary: Enrichment/Transition Days for Secondary Students
Provider: Mojo Active, Almondsbury, near Bristol
Subjects: PSHE
KS: 3 & 4
It runs educational programmes for pupils of all ages including learning outside the classroom, enrichment and transition sessions, fitness training and activity days.
The enrichment days are hugely popular. Students have the opportunity to try many on-site activities that develop communication, leadership, confidence, self-awareness, negotiation, decision making and teamwork - all vital skills which will empower the students to succeed. While their minds are being stimulated and their physicality challenged, they will also have loads of fun. Here is a typical day session:
9am: Arrive at the activity centre (Mojo Active can offer a minibus service for 30 children for schools within 10 mile radius.)
9:30 am: Welcome by Mojo staff. Students are split into teams and briefed on how the day will run.
10am: Field gun challenge on the assault course. Mojo has wooden field guns that teams disassemble and take around the 400-metre military-style assault course without the parts touching the ground. Once the course is completed students must reassemble the gun and fire the tennis ball ammunition into the target to be victorious. A great test of teamwork!
11:30 am: Pupils work together on low ropes and take on the labyrinth of cables and obstacles strung between trees approximately 12 to 18ins above ground. This tests students' collective brainpower, negotiation and working together.
12:30 pm: Break for packed lunch and refreshments, either in adjacent field or in the marquee
1:15 pm: Archery. Students learn how to discharge arrows safely and accurately, which requires patience, focus and nerves of steel. Often archery benefits the less physically confident students, making it an ideal leveller. It also builds self-esteem and concentration.
1:45 pm: Swing through the trees using bridges, traverse nets, organ pipes, islands in the sky and zip wires as part of the exhilarating 15-stage high ropes course. This requires team encouragement, overcoming fears, persistence, and self-awareness. Other activities include football golf, zorb football, archery tag, climbing wall challenges, dodge ball and more.
2:30 pm: Presentation of the final results and awards. Opportunity for students and staff to share feedback on the sessions and outline lessons learnt.
3pm: Time for a rest and transport back to school.
Contact information:
01454-660075
www.mojoactive.co.uk/education