Lucy Bailey's adaptation of Agatha Christie's classic tale will now run at London's County Hall until September 2020, with schools benefiting from discounted rates.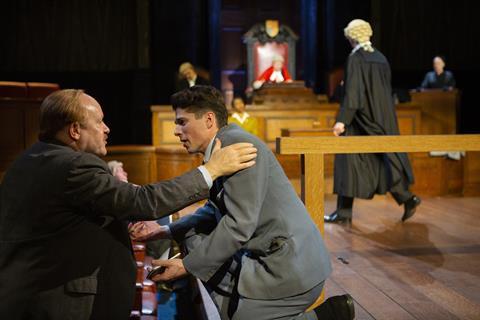 The play has now been seen by more than a quarter of a million audience members over 815 performances, putting its viewers into the seats of the jury.
Educational groups of eight or more and up to a maximum of 50 (students and teachers) can buy Band B, Band C and Band D tickets at £21.50 in the gallery seats for Tue – Friday performances subject to availability.
Tickets for the Thursday matinee performance are available to educational groups in the balcony with Band B, Band C and Band D seats at £18.50.
Useful information for visiting school groups
There are coach bays on Belvedere Road for short stay pick up and drop off, just a two minute walk from the entrance to County Hall.
These bays are operated by Merlin Events and require a permit as they are also used by customers for its South Bank attractions.
The performance lasts approximately 2 hours and 15 minutes (including one 20 minute interval). The theatre advises that groups should arrive at least half an hour before the start time as bag and ticket checks are in operation.
About the show
As the production enters its third year, over 260,000 people have been to see the gripping courtroom drama and the case of Leonard Vole, accused of murder in cold blood. The twists and turns of the case are played out as prosecution battles defence and witnesses take the stand to give their shocking testimonies.
'Leonard Vole is accused of murdering a widow to inherit her wealth. The stakes are high. Will he be able to convince the jury of his innocence and escape the hangman's noose?'
An all-new cast will also take to the stage from 17th November, featuring Taz Skylar (Warheads) as the accused Leonard Vole, Alexandra Guelff (Ghosts) in the role of Romaine Vole, Jo Stone-Fewings (Home I'm Darling) as Sir Wilfrid Robarts QC, Kevin McMonagle (A Midsummer Night's Dream) as Mr Myers QC, Jeffery Kissoon (EastEnders) as Mr Justice Wainwright and Crispin Redman (Law & Order) as Mr Mayhew.