A new attraction has opened at Jodrell Bank in Cheshire which tells the story of the site's remarkable development over the years and its role during the Cold War and Space Race.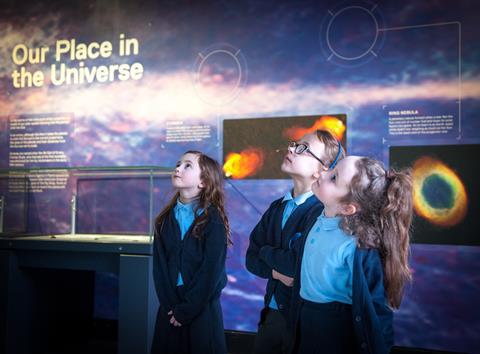 The First Light Pavilion, which opened over the Jubilee weekend, was created to tell the inspirational stories of Jodrell Bank's contribution to science, heritage and culture.
The grass-topped dome of the building mirrors the shape and scale of the dish of the famous Lovell Telescope, the world's third largest steerable radio telescope which Jodrell is known for.
It also contains a meridian line, referencing the age-old tradition of building structures that align with the skies, much like other World Heritage Sites such as Stonehenge.
Inside the TARDIS-like building is a new permanent exhibition, which brings school groups into direct contact with huge sections of the authentic metal dish of the Lovell Telescope that has 'listened' to the skies since 1957.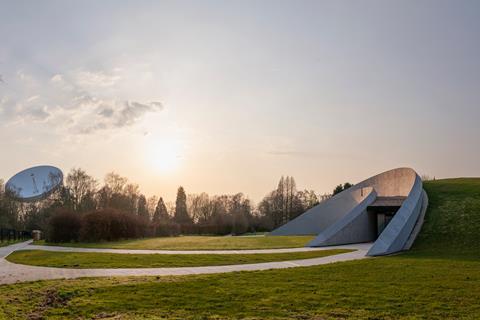 Through a range of fully interactive digital displays and projections, pupils can uncover archive materials brought together for the first time, including audio, film, plans, photographs and more.
There's also a custom built Space Dome which offers an immersive experience with a short film about the story of Jodrell Bank.
What's available to schools?
Jodrell Bank's education programme provides curriculum-linked learning for each Key Stage, from Early Years to A-Level.
Key Stage 3 and 4 groups are welcome on self-guided visits to explore the exhibitions which include the First Light Pavilion.
Sessions are available for KS1 and 2 school groups in the Space Dome; pupils learn about the sun and moon and explore how telescopes, like the Lovell, have changed our view of the universe.
There are four Pavilions to explore at the attraction. In addition to the new First Light Pavilion, which houses the Space Dome and First Light Café, there's the Space Pavilion, complete with a science exhibition, the Star Pavilion and the Planet Pavilion.
Groups can also get up close to the giant Lovell Telescope, the world's third largest steerable radio telescope, opt for a Telescope Talk and explore the 35 acres of grounds.
The Observatory, which is owned by the University of Manchester, was named as a UNESCO World Heritage site in 2019.