A group of Primary school children were collected by a tractor & open-top trailer and taken to an animal park in Warwickshire to learn about the importance of eating a hearty breakfast.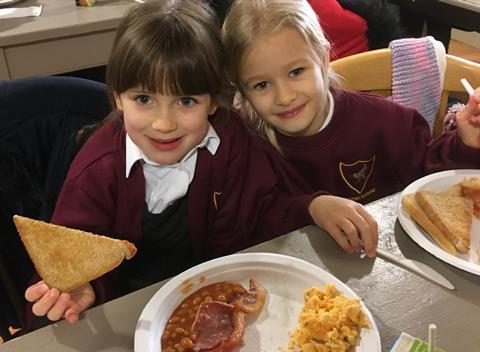 The children, aged six and seven from Ferncumbe Church of England School, sat down to eat locally sourced bacon, sausage, scrambled eggs, baked beans and wholemeal toast which was all served by members of the Warwickshire branch of the National Farmers' Union (NFU) at Hatton Adventure World.
Before breakfast the children took part in some drawing activities to understand where the produce comes from and after their meal, walked around the farmyard to feed and pet the animals at the attraction.
Kerri Grubb, a teacher from Ferncumbe School, said: "We are so fortunate to have Hatton Adventure World on our doorstep and for the children to visit the farmyard.
"Many children believe the food comes from the supermarket so it's important they realise where the food comes from and the link between the animals they feed and what they eat. It's important they take responsibility for their healthy food choices both at home and school."
Danny James, NFU group secretary for central Warwickshire, continued: "The NFU is delighted to encourage children to eat a good hearty breakfast.
"Going to school having eaten a nutritious breakfast gives children so many health benefits and helps them perform well in the classroom. It's important for children to understand why breakfast is so essential."
The initiative is now in its 15th year and continues to take place due to its learning outcomes for the pupils and the enjoyment they get out of the day.
More about Hatton Adventure World
All school visits to Hatton Farm combine a mix of informative shows and demonstrations to teach visiting children about the animals living at the attraction.
Each visit can be tailored to the learning needs of the class and each bookable session is developed in line with the national curriculum.