A new touring animatronic Ice Age experience will come to the UK in April and will bring to life beasts from 70,000 years ago.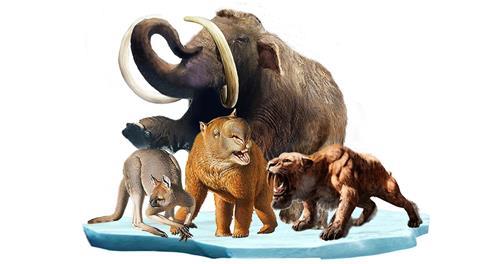 The outdoor prehistoric attraction will be touring the UK throughout 2019, beginning in London's Gunnersbury Park on 6th April before travelling to other major city parks in Birmingham, Glasgow, Manchester, Nottingham and Leeds.
Schools will be able to explore gardens and parklands, uncovering life-sized animatronic creatures as they go along, with scenery and props helping to further recreate the Ice Age period.
Featuring over 40 creatures, including mammoths, sabre-toothed tigers and giant sloths which will be brought to life through animatronics including moving arms, swaying tails, moving heads, blinking eyes and jaws opening wide, with roaring sound effects.
Educational information panels will be placed next to each creature, complete with scientifically accurate facts to enrich children's learning experience.
An education marquee will also be open along the Jurassic Kingdom route for school groups to enter and watch educational documentaries about the Ice Age period on a large project screen. The 30-minute video will provide more in-depth information about how the Ice Age creatures pupils are meeting outside lived tens of thousands of years ago.
Other features that students can participate in include a fossil excavation pit and a range of virtual reality experiences, from roller coasters to Jurassic scenes.
Ice Age 2019 tour dates
London Gunnersbury Park: 6th April – 28th April
Birmingham, Botanical Gardens: 25th May – 9th June
Glasgow, Rouken Glen Park: 22nd June – 14th July
Manchester, Heaton Park: 27th July – 11th August
Nottingham, Wollaton Park: 25th August – 8th September
Leeds, Temple Newsam Park: 19th October – 3rd November
Booking a school visit
School groups can benefit from discounted admission.
Teachers wishing to book a trip can email info@iceagekingdom.com.
For more information, visit www.iceagekingdom.com.