Based on the popular children's story, the new trail at the National Memorial Arboretum in Staffordshire will encourage school children to get outside and explore.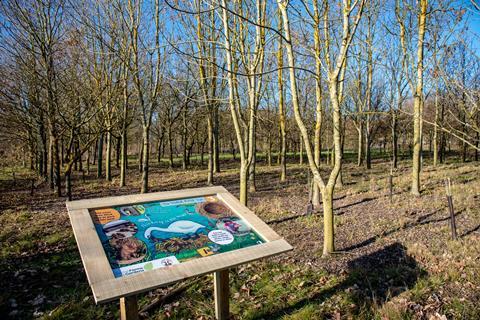 The National Memorial Arboretum has opened a new free activity trail featuring popular character, Stick Man, from the children's picture book written by Julia Donaldson and illustrated by Axel Scheffler.
The trail at the 150-acre woodland site, which is home to more than 370 memorials including the National Armed Forces Memorial, has been designed to encourage children to get outdoors and explore the natural world.
What to expect from the trail
The trail is self-guided and offers an interactive learning experience for Key Stage 1 and 2 pupils. It has been designed to help children go on their own adventure with the character. Brightly coloured boards featuring Stick Man and other characters from the picture book are positioned along the trail to be used alongside a map which can be collected free of charge from the Arboretum welcome desk.
The National Memorial Arboretum was chosen to host the trail as part of a nationwide scheme supported by Stick Man brand owner Magic Light Pictures and Social Farms & Gardens, a charity which promotes land-based activities that encourage learning and improved well-being.
This national project uses the character to help thousands of young children discover just how much fun learning through nature can be.
The Stick Man trail is available daily until early 2020.
Sarah Oakden, head of marketing at the National Memorial Arboretum, said: "We are continually seeking to encourage new people to visit the Arboretum and learn about the significance of the site. Stick Man is extremely popular with young children, and this character will help them explore the natural elements that surround the memorials."
Heidi Seary from Social Farms & Gardens, said: "Modern life sometimes means children don't always have access to the countryside or regular opportunity to play and learn outdoors. We hope that the trail at the National Memorial Arboretum will inspire young children to go on their own outdoor adventure with Stick Man, where they can have fun, as well as learn more about the natural world and how things grow."
School visits to the National Memorial Arboretum
A variety of school visits can be arranged for both Primary and Secondary groups.
For example a Black History Month Guided Tour in October will include a 90 minute guided walk which will demonstrate the particiption of the military from overseas.
As well as this, in January 2020 look out for Holocaust Memorial Day Workshops suitable for Key Stage 2 and 3 groups.
You can find out more about school visits on the website: www.thenma.org.uk