London Transport Museum in Covent Garden is welcoming back school groups with two new facilitated onsite workshops suitable for KS1 and KS2 pupils.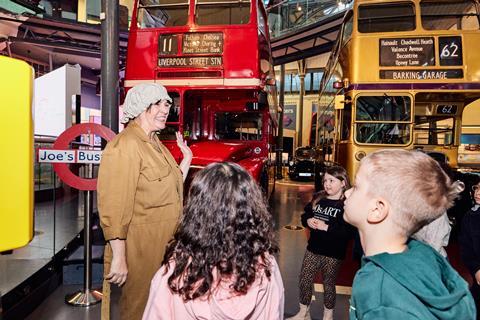 As well as taking part in the new workshops, school groups can book a self-guided visit to explore the museum's galleries at their own pace. In addition to the new workshops, Caribbean Journeys and Joe's Busy Bus, downloadable activities are available for teachers to enhance and embed learning back in the classroom.
Caribbean Journeys (KS2)
Available during three timed slots on Thursdays and lasting 50 minutes, children can learn about the diverse careers of London Transport's Caribbean workforce. The session explores concepts of inclusion and identity, helping children develop and practice their empathy, enquiry, listening and communication skills through a story-telling session uncovering how Caribbean culture has shaped the way we travel and the city in which we live.  Curriculum links include History, Literacy, Drama and PSHE.
Joe's Busy Bus (KS1)
This workshop is available during three timed slots on Mondays and Wednesdays, children can join Joe Clough on a 'time travelling adventure' as he searches for his missing hat in vehicles from across the ages. During this actor-led session, your class will be time detectives challenged to piece together mysterious clues left by passengers on Joe's bus.
Using the museum's guide, pupils can go through the galleries discovering diverse people working for London Transport and the role they played in keeping London moving. This is a part actor-led and part self-facilitated session. Curriculum links include History and Literacy.
About London Transport Museum
Situated in the heart of Covent Garden, the museum is said to use its collection to inspire interactive sessions and stimulate pupils' curiosity by helping them make connections between London's transport heritage and their lives today.
The museum also runs Early Explorer Mornings which are an opportunity for SEND learners from EYFS - KS4 to visit at a quieter time free from the general public. These are self-guided sessions where children can meet costumed characters, explore objects from the museum's collection, investigate the vehicles and enjoy the All Aboard play zone.