Historic Dockyard Chatham has unveiled Diving Deep, a new exhibition documenting the archaeological recovery of HMS Invincible, the British Royal Navy ship which lay at the bottom of the Solent for over 260 years.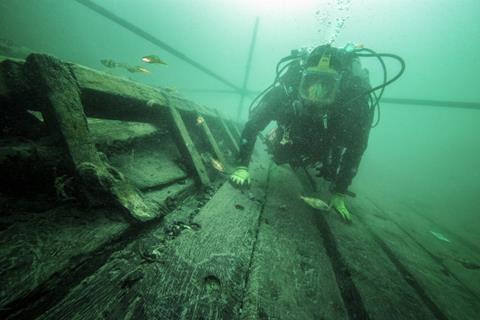 The exhibition showcases a variety of immersive and hands-on activities that are suitable for children from Key Stage 1 and above. Highlights include taking a 'wig selfie' and having a go at rolling a one, with replica clay rollers that would have been used by servants on the ship to curl the captain's wig on his journey to America.
Other sensory experiences include the smell of a gun when fired and the rope smelling of the tar painted on it in 1758, as well as identifying by touch the numbers etched on tally sticks used to label charge bags for gunpowder.
Children can also sit in a specially-designed metal chair to experience the vibration of the divers at the bottom of the sea during the second of two excavations in 2017-19, while original film footage of the underwater recovery is projected onto three surrounding screens.
Other highlights at the Dockyard
Olivia Horner, head of visitor enterprise, told School Travel Organiser that the site is "constantly educating people about our story and who we are".
She said: "We are an incredible venue for school groups and have a dedicated learning team which will work with schools on a one-to-one basis to ensure that we get the itinerary that's completely tailored to the school's needs.
"We have everything from STEM activities to World War Two activities, and our team builds packages with teachers, from a half day to a full day. We have a really nice structure to our learning visits, it's very hands on."
Visiting school groups can also access HMS Ocelot, the last submarine to be built on the site, as well as experience rocket firing and air-raid shelter tours. Children can also try their hand at making a piece of rope in the Victorian Ropery.
Overnight stays
In addition to day visits, school groups can arrange to sleep on board the Royal Navy's last operational World War Two Destroyer HMS Cavalier in its 35 ships bunks and enjoy an evening programme of naval activities led by the onsite team.
Olivia explained: "With our overnight accommodation we are hoping we can branch outside of Kent because you can travel that little bit further with an overnight stop off.
"You bring along your pillow and a sleeping bag. There are working showers, working toilets – everything's on board. It's a really nice addition to a World War Two-themed day, or as something fun to do. We work with teachers on a one-to-one basis to tailor the overnight experience. There is a lift on board for access to the lower decks, so it's incredibly accessible."
About Historic Dockyard Chatham
The historical attraction in Kent documents the story of rope and includes the iconic Rope Walk which stretches the length of 33 London buses (a quarter of a mile). It consists of over 100 buildings and structures, including 47 Scheduled Ancient Monuments.
Rope has been made at Chatham for over 400 years and it is the last of the original four Royal Navy Ropeyard's to remain in operation.
Historic Dockyard Chatham has a dedicated learning team for schools to create an itinerary tailored to an individual school's needs. Diving Deep is running until 20th November 2022. For school bookings and bespoke itineraries, call 01634 823815, email groupsales@chdt.org.uk email or visit www.thedockyard.co.uk/groups/.