Chief executive of Yandell Media Group, which publishes School Travel Organiser, was presented with his MBE by HRH The Princess Royal at an investiture ceremony held at Buckingham Palace on 2nd November.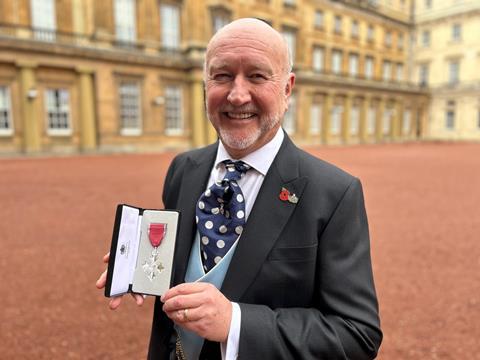 Graham was honoured in the first King's Birthday Honours List for his services to media.
In what he described as a very proud and emotional day, alongside his family, Graham also found time for a moment of reflection: "When I first started off in business, over fifty years ago, I couldn't possibly have predicted this day. Not only in terms of receiving an MBE, but having met and overcome so many business challenges, not least the economic havoc wrought on so many businesses by Covid 19.
"I have been extremely fortunate to have met many diverse and interesting people and great characters, many who remain friends to this day. I have also worked alongside many great people over the years who have taught me so much, going right back to my days at Westminster Press and International Thomson Publishing.
"I have been lucky to do a job that I love and being presented with this MBE is a proud moment. My only regret is that my late mum and dad could not have been here to celebrate this occasion.
"The ongoing support from my wife Sharon is the rock and solid foundation I build on, without which I could not have come through the trials and tribulations that increasingly affect the pressures of business life."
"I have been lucky to do a job that I love and being presented with this MBE is a proud moment."

Graham Yandell, MBE, chief executive of Yandell Media Group
Graham's son, Rob who is a director of Yandell Media Group and publisher of School Travel Organiser, said: "My dad has built a brilliant company, worked incredibly hard and made a lot of sacrifices. Yandell Media Group's products and brands have had, and continue to have, a huge positive impact on the markets they serve.
"Graham's innovative talents have resulted in the company boasting a first class stable of publications and events, and I think his determination to be the best in the markets our media serve is evident in all that we do.
"We are incredibly proud that he has been awarded an MBE for services to media and to the food industry, a sector on which the company was founded back in 1986. It was fantastic to see him be awarded his medal at Buckingham Palace today."
About Yandell Media Group
Established in 1986, Yandell Publishing's portfolio includes School Travel Organiser and Group Leisure & Travel, as well as well-respected titles serving the food and meat industries.
It's also behind the annual School Travel Awards initiative in addition to the hugely successful Group Leisure & Travel Show, the annual Group Leisure & Travel Awards initiative as well as a number of other events, market-leading websites, newsletters and other media.
Yandell Publishing is a part of the Yandell Media Group Ltd.