The tour schedule and full casting details have been confirmed for the upcoming production of George Orwell's satirical novel Animal Farm which launches at Birmingham Repertory Theatre in January.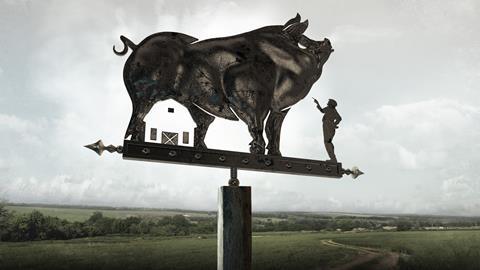 The show, which is being produced by the Children's Theatre Partnership (CTP) in association with Birmingham Repertory Theatre, has been billed as a "dynamic, daring and contemporary take on a timeless story".
After its run at Birmingham, the production will embark on a UK tour that includes Cambridge, Norwich, Plymouth and Nottingham, before concluding on 28th May at Churchill Theatre in Bromley, South London.
The production has been adapted and directed by the award-winning Robert Icke whose previous adaptations includes another of Orwell's classics, 1984, which had successful runs in both the West End and on Broadway.
It will combine the designs of four-time Olivier Award-winning Bunny Christie (A Midsummer Night's Dream and The Curious Incident of the Dog in the Night-Time) and puppetry by Toby Olié (War Horse and Running Wild).
The 2022 tour dates and venues are as follows:
Birmingham Repertory Theatre (22nd January - 5th February)
Cambridge Arts Theatre (8th - 12th February)
Newcastle Theatre Royal (22nd - 26th February)
Bath Theatre Royal (1st - 5th March)
Norwich Theatre (8th - 12th March
Salford Lowry (22nd - 26th March)
Plymouth Theatre Royal (29th March - 2nd April)
Nottingham Theatre Royal (5th - 9th April)
Coventry Belgrade Theatre (12th - 16th April)
Blackpool Grand Theatre (19th - 23rd April)
Liverpool Playhouse (26th - 30th April)
Canterbury Marlowe Theatre (3rd - 7th May)
Richmond Theatre (10th - 14th May)
Wolverhampton Grand Theatre (17th - 21st May)
Bromley Churchill Theatre (24th May - 28th May)
About George Orwell and Animal Farm
George Orwell (1903-1950) was born Eric Arthur Blair and became an English novelist, essayist and critic, best known for his novels Animal Farm and 1984. Orwell's work notoriously addressed political movements of his time, including imperialism, fascism and communism. Animal Farm was first published in 1945 and tells the story of a revolution and its aftermath.
Children's Theatre Partnership (CTP)
CTP was established in 2010 to produce and tour bold, ambitious and imaginative theatre for young people, families and schools.
It aims to "excite and engage new and diverse audiences, often introducing them to the theatre for the first time," bringing communities to their local theatres and inspiring a life-long love of theatre.
Previous CTP productions include a West End and UK tour of Swallows and Amazons; a UK tour of The Boy in the Striped Pyjamas; and a UK tour of Michael Morpurgo's Running Wild.
The production is suitable for children aged 11 and over, with tour dates running from 22nd January - 28th May 2022.
For bookings, schools should contact each venue directly and for more information about the production see www.animalfarmonstage.co.uk.