Teachers are invited into the world of Cadbury to find out about its programme of educational visits for a special open day next month.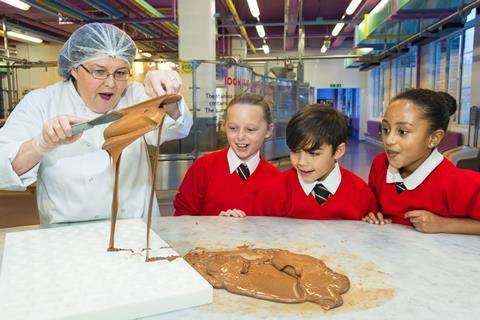 The event, on 13th October, will take place at the attraction in Birmingham and give those who haven't yet booked a trip there, the chance to meet the Cadbury World team.
Teachers will also have the opportunity to explore the attraction, which includes the 4D Chocolate Adventure, the Bournville Experience, and the World's Biggest Cadbury Shop and the Cadbury Café during a self-guided tour.
With over 28 years' experience and more than 2,000 school groups attending each year, Cadbury World offers a unique experience that gives fascinating insight into the rich heritage of the nation's favourite chocolate brand, through an assortment of chocolatey zones.
To bring topics to life, there are a variety of informative curriculum-linked talks and workshops on offer for Key Stages 1 to 5, covering everything from The Maya, Bean to Bar, Design and Technology, Business Studies, Marketing and Geography, making Cadbury World an ideal day out for school groups of all ages.
As an added incentive, Cadbury World has announced it will freeze 2019 prices for the schools that attend the open day and book a visit before the end of the 2019/20 academic year. Teachers who book a visit for May 2020 will receive an additional 5 per cent off.
Diane Mitchell, marketing manager at Cadbury World, said: "Our Teacher Open Day is a fantastic way for teachers to come and explore all that Cadbury World has to offer for a memorable and educational trip for Primary and Secondary schools alike, including free coach parking, access facilities, resources and special discounted packages."
For more information and to see the Teacher Day itinerary for primary and secondary school trips, visit the Cadbury World website.
Teachers must pre-book their tickets online and the ticket will be sent to their school email address.