English Heritage volunteers are reconstructing a Bronze Age roundhouse at Beeston Castle in Cheshire, to educate visiting schools on life from the era.
Due for completion in October, the Bronze Age house will provide an 'immersive learning experience' for schools from Cheshire, Manchester, Liverpool and across the North West of England.
Authentic tools and archaeological evidence is being used to form the new-build, which will stand on the site of an original roundhouse, which disappeared around 4,000 years ago.
The archaeological information recovered from original post holes, discovered in the 1970s and 80s, along with Bronze Age objects such as axes and knives has been used to rebuild an authentic replica.
A team of 60 volunteers have began construction on the roundhouse, already erecting 15 vertical posts, with horizontal wall plates to form the framework of the house.
Luke Winter, the experimental archaeologist leading the project on behalf of English Heritage, said: "It is so rare to have a chance to recreate a Bronze Age building on a site where it once stood, and thanks to our inspiring team of volunteers we are making great progress.
"By using authentic tools and recording axe strikes and post depths, they are helping to increase our understanding of Bronze Age construction methods."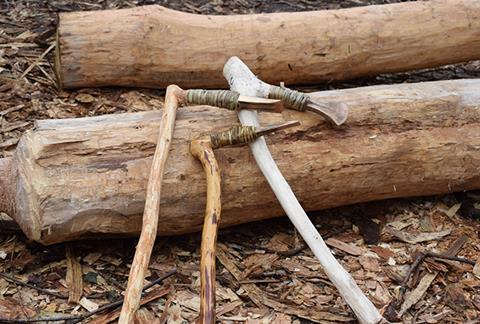 Hands-on education
When complete, the roundhouse will support educational visits at the site, allowing children to understand the prehistory at Beeston Castle in a realistic environment.
Pupils will take part in Prehistoric craft activities inside the roundhouse as part of their experience.
Situated in the grounds of Beeston Castle, visiting schools will be able to make use of a historical day, away from the classroom.
The sessions will have a particular appeal to Primary schools as prehistory was added to the National Curriculum in 2014.
Schools are welcome to visit Beeston Castle before the opening of the roundhouse too, to get an understanding of how it would have originally been built in the Bronze Age.
John Proudlove, a member of English Heritage's volunteer team, said: "It is an amazing experience to be part of this project, a once in a lifetime opportunity to learn about Bronze Age building techiniques. We are building a lasting legacy."