Part of company Edwards Coaches Ltd, École School Tours has now rebranded itself as Edwards Education and Youth Tours, in order to strengthen its market position and offer more for schools.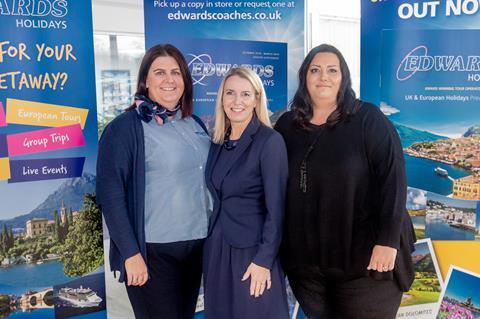 As part of its rebranding, it will be widening its product portfolio by offering bespoke tours for schools, youth organisations and sports teams.
Along with this, a new website will also be launched in March with a launch event expected to follow too.
Edwards Education and Youth Tours
Edwards Education and Youth Tours provides a variety of different learning possibilities, with trips that can tie in with subjects such as Business Studies, Literature, Art & Design, History and Politics, to name a few.
Types of tours can include: Study Tours which take pupils to destinations which tie in with a specific subject or topic being taught at schools; Combined Tours which involve other classes and subjects, visiting destinations that are cross curricular; day trips; and sports tours.
More about the rebranding
The transformation follows a period of extensive market research and internal discussions which resulted in the conclusion that the Edwards brand had a stronger resonance with customers. In order to provide consistency across the business the decision to rebrand was made.
Liz Lewis, education and youth tours manager said: "We're very excited to introduce our new brand to customers along with our wider range of products.
"The Edwards name has long held a large amount of gravitas in South Wales and combined with the company's commitment to youth education it only seems fitting to integrate into the wider brand."
Jason Edwards, managing director said: "École has done excellent work over the past thirteen years with local schools and youth organisations and I very much look forward to seeing them grow with the rebrand.
"This is an opportunity to put them at the forefront of the industry and provide eye opening trips for kids all across South and South West Wales."
For more information, visit www.ecole-tours.co.uk.
Picture: Emma Willis, Liz Lewis and Janet Welch-King of Edwards Coaches Ltd.