The theatrical show, Dinosaur World Live, brings dinosaurs to life on stage in an interactive and educational performance suitable for all ages.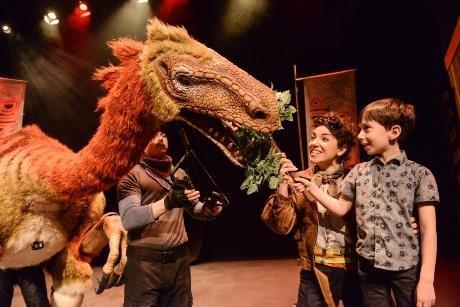 The UK tour will open on 30th March at The Broadway in Peterborough, visiting a further 31 venues nationwide, followed by a four-week summer season at Regent's Park Open Air Theatre in London.
Dinosaur World Live: Synopsis
Using puppetry to bring life-like dinosaurs to the stage, Dinosaur World Live presents a host of impressive pre-historic creatures including every child's favourite flesh-eating giant, the Tyrannosaurus Rex, along with a Giraffatitan, Microraptor, Segnosaurus and Triceratops.
The show introduces Miranda, a daughter of palaeontologists, who grew up surrounded by dinosaurs on a far-away island off the coast of South America.
Each performance is followed by a post-show meet and greet where children have the opportunity to meet some of the dinosaur puppets in person.
School benefits
The show is also offering new teacher packs which include curriculum-based activities so that your class can explore the show and the themes in more detail.
Dinosaur World Live poses as a great introduction to live theatre for teachers wanting to initiate their classes to Drama and also wanting a trip that ties in with other subject such as History, Geography
Selected tour dates
The tour will be running until 9th September, where it will close at London Regent's Park Open Air Theatre.
Peterborough The Broadway: 30th - 31st March
Newbury Corn Exchange: 4th - 6th April
Chester Storyhouse: 7th - 8th April
Blackpool Grand Theatre: 20th - 22nd April
Scunthorpe Baths Hall: 2nd - 3rd May
Newark Palace Theatre: 9th - 10th May
Birmingham Town Hall: 19th - 20th May
Oxford Playhouse: 29th - 30th May
York theatre Royal: 13th - 14th June
Bristol Hippodrome 28th - 30th June
Cheltenham Everyman Theatre: 6th - 8th July
ghout the school summer holidays in July, August and September.
For more information, visit dinosaurworldlive.com.