The inspirational 33-acre zoo that inspired the Hollywood film We Brought a Zoo is on the fringes of Dartmoor is home to a wide variety of mammals, birds, reptiles, invertebrates and amphibians.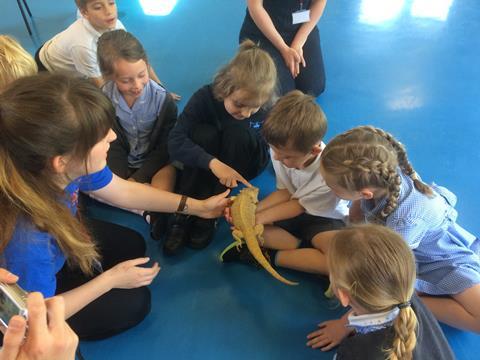 Itinerary: A day (and maybe a night) at the zoo
Provider: Dartmoor Zoo, Sparkwell, Devon
Subjects: Science
KS: 1 & 2
In 2007 Benjamin Mee and his family bought the ailing menagerie and built it into a popular tourist attraction. A charity since 2014, it is heavily involved in research, conservation and education projects, and after Ben wrote a book about his experiences it was made into the 2011 movie starring Matt Damon and Scarlett Johansson.
It offers range of educational experiences including curriculum-tailored programmes for all ages, and welcomes more than 12,000 students each year. New themed workshops for 2018 include Predator vs Prey, Native Wildlife and Adaptations to the Cold.
10am: The group is welcomed by the discovery and learning team, bags are stowed and pupils have a chance for a comfort break and snack before heading to the classroom.
10:30am: The pre-arranged curriculum linked workshop lasts up to an hour, includes animal handling opportunities, and concludes with questions and answers with the discovery and learning officer. A popular session is Close Encounters where students meet creatures from the small animal collection and learn amazing facts about them.
11:30am: Students visit the zoo's ring-tailed coati enclosure to observe feeding time and listen to a talk about these South American creatures
11:45am: Time for lunch in one of the outdoor picnic areas or a reserved space in the restaurant.
12:30pm: Teachers escort their students around the park on a self-guided visit to see the fascinating collection of big cats, bears, small mammals, reptiles and birds.
1pm: Feeding time with the loveable otters and another insightful talk.
1:15pm: The self-guided tour continues. Students search for all the cats living in the woodland area before heading to the walk-through enclosure, which includes Mr Pickles, the friendly fallow deer, wallabies, pigmy goats, ducks and muntjac deer.
2pm: Time to go - or for schools that have more time there is a unique sleepover at the zoo experience where pupils get an exciting insight into the wild world of the zoo at night.
Contact information:
01752-837645
www.dartmoorzoo.org.uk