Keeley Rodgers catches up with Paul Curnow, Form Teacher & Forest School Leader, after he was given the LOtC Inspiring Educator Award for his work.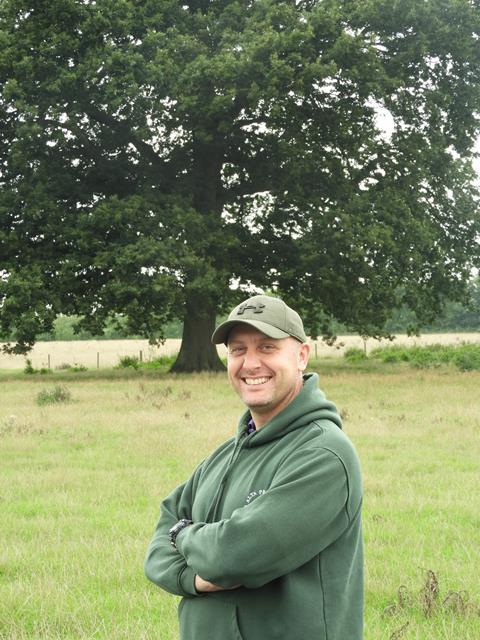 "If you go down to the woods today…" as the song goes – except in Paul Curnow's case, the outcomes can be life-changing.
What began as filling in for a teaching assistant and taking a group of children to the woods for a forest school lesson has led to Paul's school, Spring Grove School in Kent, becoming the first independent school in the UK to achieve recognised Forest School Provider status.
He explained the moment it hit home just how much impact learning outdoors, particularly through Forest School, can have on youngsters: "The morning after we had been out in the woods, I discovered one of the children, who was a selective mute and hadn't spoken to his mum for nine months, had gone home and told her all about it. That was my epiphany. I thought "there's obviously something in this"."
There certainly was, fast forward a few years and Paul is now running a very successful Forest School at Spring Grove, even expanding to encompass 'Beach School' which has inspired pupils to launch their own plastic recycling programme at school.
And the father of two has plenty of experience of survival outdoors to draw upon too, not least because he served in the RAF for over 20 years. However it was an experience slightly closer to home that Paul believes really influenced who he is today.
"I was lucky enough to the Outward Bound Centre in Ullswater for three weeks at the age of 16 and I think that changed my life. It gave me confidence and showed me the way my life was going to go; the military has built upon that."
So why has Paul's Forest School been such a hit with pupils, parents and staff? Well, explains Paul, "it's all about the rounded child at Spring Grove – Forest School fits into that ethos perfectly. I've had numerous experiences of children who aren't very academic but are absolute knot ninjas; they've found what they're good at."
There is an increased emphasis on school trips at the school too, complementing the outdoor work by Paul. Each year group has at least one school trip every term; recently they have been to the Roman Museum, Hever Castle and Kent Life and they're also looking ahead to outings to the British Museum and a residential in France.
Linked to the curriculum, the key to Forest School lessons as highlighted by Paul is that they're "child-led" in that the pupils are giving the freedom to choose what particular activities they want to get involved in during the outdoor sessions. He added: "It gives them the opportunity just to play, make choices and make mistakes which is not necessarily something that happens in society."
A typical session, Paul enlightens us, begins with some free time and the children being comfortable in their location, checking on their dens and looking for any new wildlife they can find. Then after lunch, the various activities on offer are set up and an explanation of each given to the children. It may be craft activities, making friendship bracelets, learning new skills or a food activity, which Paul said is particularly popular among the budding chefs. Or, as Paul explains, the children come up with a completely different activity they'd like to do. And each session finishes with reflection and a story around the campfire – sounds delightful to us!
Advice to other schools considering Forest School?
"I'd say give it a go. I've been very lucky but even if you just took a couple of kids out for the afternoon with a fire lighter you'll see the benefits. Do whatever you can, whatever you can afford. The children will get something out of it and the doubters will get behind you quite quickly."
Paul was named LOtC Inspiring Educator at the Council for Learning Outside the Classroom Awards in November. The award was sponsored by School Travel Organiser.